As Christian Care Ministry celebrates 26 years of the Medi-Share program this August, there is much to thank God for. Not only has the Lord blessed the ministry with continued growth, He continues to protect Medi-Share and the concept of healthcare sharing which is spreading across the country like wildfire.
The spirit of sharing is woven into the tapestry of CCM and its employees. It's also the foundation for what Medi-Share is all about―part of our mission.
As this spirit carries on into Medi-Share's 27th year, CCM will host its second annual Day of Sharing on October 5, 2019. The Day of Sharing is a nationwide initiative to motivate and mobilize people to share their lives, faith, talents, and resources to serve others.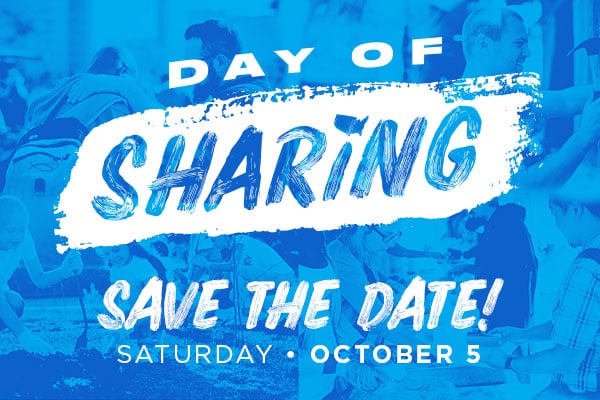 Our inaugural event in 2018 included CCM employees in Colorado Springs, CO, Melbourne, FL, and remote workers, as well as some Medi-Share members who volunteered at local non-profit organizations in their individual communities.
Last year's Day of Sharing corresponded with a city-wide event in Colorado Springs called City Serve and a large contingent of CCM employees volunteered through that initiative. This year, CCM is partnering with City Serve to co-host the event.
Melbourne CCM employees served 10 area non-profits ranging from packing weekend meals for The Children's Hunger Project to planting mangroves for restoration of the Indian River Lagoon Estuary, and we are planning to add even more non-profits to this year's list to serve.
Please join us in celebrating sharing by scheduling volunteer service in your respective community on October 5. If you would like to get involved and spearhead efforts with other members in your area, visit DayOfSharing.com.
In addition to promoting sharing across the country, CCM has hosted and attended several events throughout the year to help strengthen our community as well as talk about Medi-Share and healthcare sharing with those who haven't heard about it.
We recently brought some members together for a time of fellowship at Member Meet-Ups in Orlando, FL and Colorado Springs, CO. Highlighting both evenings was a member sharing their personal story of how their major medical need was met by fellow members, several of whom attended and connected directly with the person they shared with. What a powerful way to see sharing come to life!
Legacy members (Medi-Share members for 10 years or more) were also recognized for their commitment to share one another's burdens. The evening was a true blessing for all who attended as they forged new relationships and heard from other Medi-Share members who were directly impacted by the sharing of fellow members.
"May God continue to greatly and abundantly bless the people of Medi-Share, and this ministry! Hearing the testimony [of other members] is very valuable as well for newcomers to the ministry of healthcare sharing." Member testimony.
Throughout the year, Medi-Share has been represented at a handful of conferences including Great Homeschool Conventions and others.
Medi-Share's Event Coordinator, Michael DiMuccio, is looking forward to the Experience Conference at Disney's Coronado Springs September 3-6, 2019. Scores of worship leaders from around the country and across denominational lines gather there each year for one of the largest worship conferences in America. They connect in community with one another, get equipped with key resources, and become empowered to see how God might use them to change the world.
Medi-Share will also be returning to FinCon Sept. 4-6 with a team of staff members who will connect with expert financial bloggers from across the US to talk about Medi-Share, healthcare sharing, and what stewarding healthcare dollars can do for families everywhere. Medi-Share member Philip Taylor, the creator of Part-Time Money, is the brains behind FinCon. FinCon is the world's largest [Fin]ancial [Con]tent Expo. Launched in 2011 as the Financial Blogger Conference, it has since expanded to include all of the most influential digital and social content creators in the personal finance space.
Please join CCM employees in praying for the Medi-Share program and its members as we look forward to many more years of faithfully sharing.