More than just once a year on the annual Day of Sharing, Christian Care Ministry and its employees have a heart for serving in the surrounding communities all year round. But when the COVID-19 pandemic hit, employees and others all across our country were left wondering how to help during these times of social distancing.
Each full-time CCM employee is blessed to have 24 hours of paid release time per year for missions or to volunteer at local non-profit organizations. This allows parents to leave work and volunteer at their children's schools―to attend fieldtrips or help out at school activities. CCM employees can use the time to serve at Vacation Bible School or church seminars. Some employees regularly volunteer for area non-profits serving as helpers, mentors, and tutors.
But in March 2020, everything came to a screeching halt.
Schools closed in March―no more school activities or field trips. Summertime VBS and mission trips were cancelled. Area non-profits closed their doors or stopped allowing outside volunteers in an effort to protect their employees and their clients. Many of the opportunities to which CCM employees faithfully offered their services were no longer available.
However, that didn't stop teams from serving! During the last 3+ months of sheltering, March-June, CCM team members volunteered more than 600 hours. One of the greatest needs during shelter-in-place was food. Children who received free breakfast and lunch at school no longer had that option. Many parents laid off from work had no means of support for their families. CCM employees stepped up to the plate and served at different food outreach programs in Melbourne, FL and Colorado Springs, CO.
Eric Mellert (CCM Melbourne), from CCM's Business Optimization department, organized a team of his employees and others to pack weekend meal packets at Children's Hunger Project. Not only did team members pack meals, but they also assisted at schools where parents could come and receive the meals for their children.
Several employees who attend Calvary Chapel Melbourne collected food there donated by their fellow church members for South Brevard Sharing Center. Risen Savior's food bank received help from CCM's EPMO team, which served more than 30,000 pounds of food to 1,799 individuals!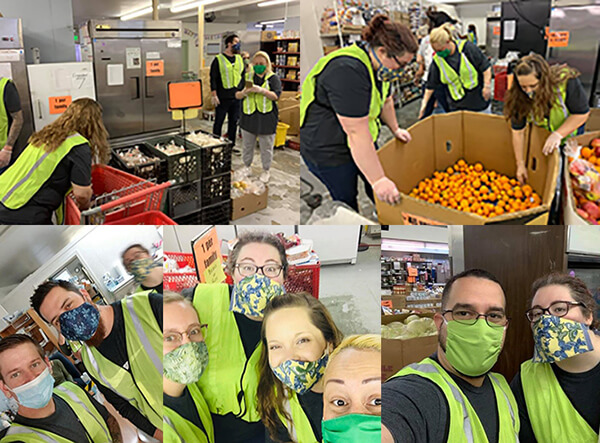 In Colorado Springs, Jim McMillian from the Facilities department worked with the Salvation Army, and employees from the Applications team distributed food through United Way to hundreds of families in need. Colorado Springs' Cost Management team volunteered at Crossfire Ministries, a local food bank, stocking shelves and preparing food for distribution to the area needy. And another employee served at First Southern Baptist of COS youth group retreat, which normally would have gone out of state but was a local opportunity due to travel restrictions.
CCM's Health Coaches and other Medi-Share support staff planned group service projects at New Life Mission, a transitional shelter for homeless women and children. They got homes ready for occupancy and helped prepare items at the New Life's Denim Marketplace to help with funding for the Mission.
All across CCM, team members were creative and looked for opportunities to serve from home. Kathy Hobson from the IT department crocheted "chemo" hats for the cancer patients at Cancer Centers of America through Melbourne Community Church. Several employees from the Marketing, Applications, and Quality Assurance teams made beautiful handmade cards for residents of area nursing homes and rehabilitation facilities sponsored by Elevation Church. Another group helped paint the fellowship hall and offices of an area church.
With people "sheltering at home" and spring cleaning, Love INC of Brevard received a huge influx of donated items. CCM employees volunteered at their Village Thrift store to sort and organize all the donations.
CCM's Executive Team even got in on the action. CEO Scott Reddig, Spiritual Director Jerry Lawrence, CFO Holly Carothers, Senior Contact Center Director Eastand Royal, Deputy Medical Director Karen Daniels, HR Director Casey Sanders and Cost Management Director Angie Garcia prepared and served lunch to the residents of C.I.T.A. Rescue Mission. C.I.T.A.'s purpose is to offer hope and healing to the broken, addicted, and homeless in Brevard County.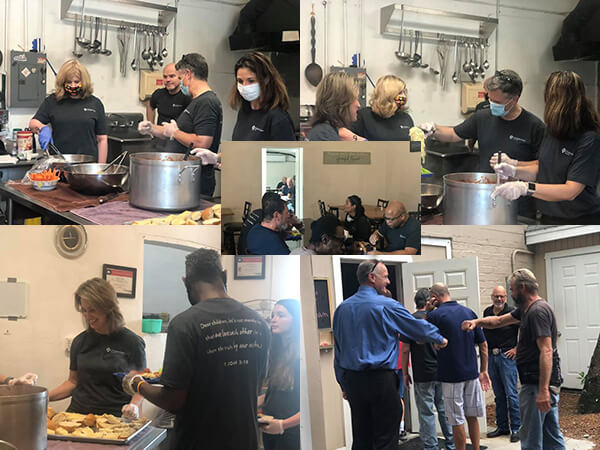 Social Distancing and area closures created some challenges for team members trying to use their Mission/Volunteer hours, but CCM's employees are determined and committed. Christian Care Ministry was founded on helping one another, and during this exceptional season team members exemplified the ministry's purpose despite the challenges.