By Dawn Carroll, APR
Today called for Chick-fil-A.
Not a bad day, it was just a day. Resolute to the fact that I have no place to go, no plans to make, no vacations ahead to dream about; trying to keep my wits about me as I navigate the unknown. We keep talking about the lifecycle of the pandemic, so I decided to document my own personal "crisis" cycle, hoping that maybe processing it in writing will help me refocus.
Phase 1: Anger
I'd been planning this conference and subsequent vacation for months. I needed some work-related inspiration and time out of the office. Knowing I had a spring break getaway with my husband and son on the tail end was even more exciting.
Oh the places we'll go! Four national parks were on my agenda, but more importantly, I was yearning to escape our busy lives and have some time away with my family. Memories to cherish with my almost 17 year old baby, who was begrudgingly willing to go on vacation with me—I knew it might be one of the few left before he flew the nest.
Imagine my outrage when, in the preliminary stages of the pandemic, they announced the conference I was to attend was cancelled. "You've got to be kidding me? For a bad cold? Seriously, we are nuts in this country. Social media is to blame!" I scurried about to adjust my plans, watched the news proactively, and looked forward to my vacation.
Phase 2: Denial
Off to Vegas we went for one night only, en route to the Grand Canyon. A quick trip to the strip and a nice meal at a high-end restaurant before we headed south to see the sights.
Vegas was uncharacteristically quiet. The restaurant we dined at was closing the next day for "renovations." My spirit started to flutter a bit, but I was determined. We set out early the next morning and arrived at the most grandest of canyons by noon. We enjoyed the rest of the day exploring, us and several thousand other nature lovers. "See? All these people are here. We aren't the only ones. It's fine."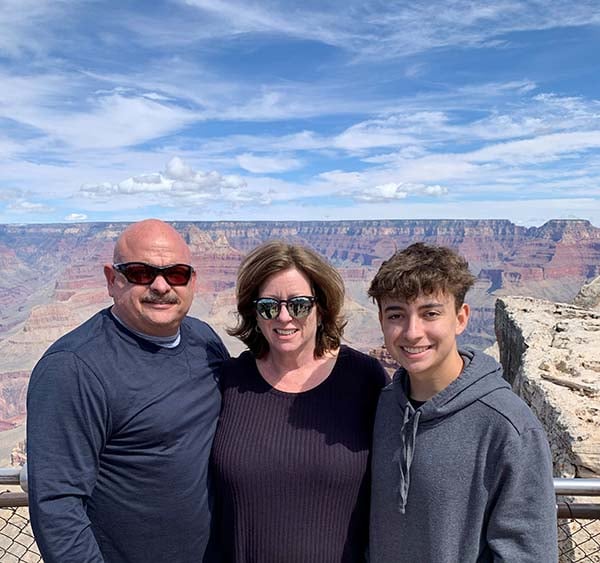 Phase 3: Uneasiness
The next morning the boy was less than enthusiastic, so we left him at the hotel while we went to watch the sunrise with Starbucks in hand. With the virus on our minds and consuming our talk, I turned it over to God, asking Him to direct our path and bring us peace. We still had four days of adventure ahead of us, by golly.
Returning to the hotel, we discovered my son was not feeling well. I wondered if he had altitude sickness, or if he caught something on the plane, and promptly doped him up. Knowing sleep was the only thing we could do for him at that moment, we went ahead with our plans to hike the South Kaibab trail.
The uneasiness escalated. "What have I done? Did he catch something while traveling? Is it coronavirus? What if we can't get home to Florida? What if? What if? What if?"
Phase 4: Disappointment
The hike was everything I dreamed it would be. Hard, but exhilarating. Breathtaking—literally and figuratively. Awe-inspiring scenery, a huge sense of accomplishment, and pure joy and marvel at God's creation. However, my boy missed it. I wanted the picture of all three of us at "Ooh Ahh Point."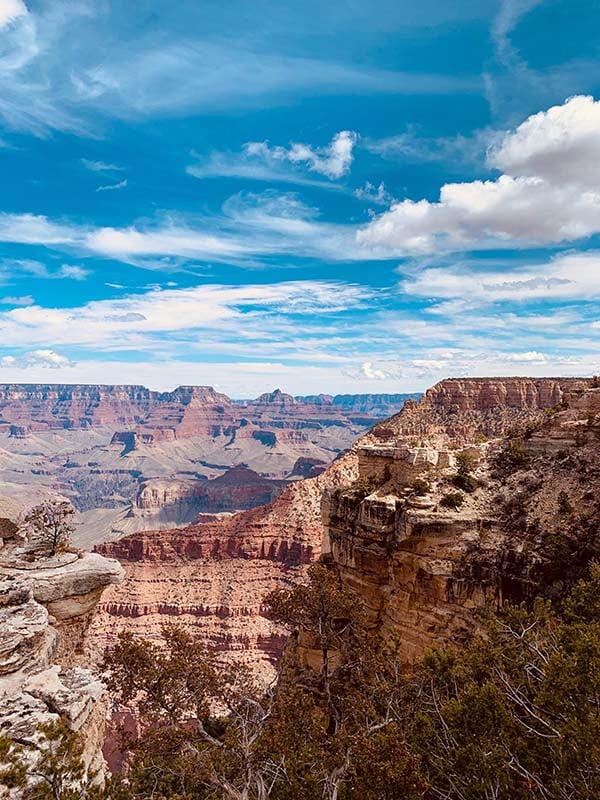 Arriving back at the hotel, he was feeling even worse. I received an email that our next destination—Antelope Canyon—was cancelling our tour. "Well of course they are. Don't they know that was the highlight of the next leg of our journey? I wonder if the float trip will be ruined, too." I made a few calls and looked at my husband and son and said, "Okay, we're getting signs now. What do we want to do?" We agreed that if we could get a refund for our next lodging and a cheap flight back, we'd all feel better. Sigh.
Phase 5: Relief
Twenty minutes later, I had a full refund from the hotel and new flights scheduled for the next day. For $28 a person. No, that wasn't a change fee; that was the actual price of the flight from Vegas to Orlando. If that wasn't a sign, I don't know what was.
Surprisingly, my disappointment faded. My son dramatically improved. And we accepted what was clearly God's plan. I saw my canyon. I hiked my hike. I made some memories. Up early the next morning, we said our good-byes to the canyon and headed back to Vegas. It was even more eerie than two days before as word was getting out that casinos and hotels were closing. It could have been busy at the airport, but instead, we walked right up to the ticket counter and received a full credit for our previous return flights. Zero wait. Zero hassle. Thank you, Lord for your confirmation.
Phase 6: Peace
Walking into my house that night I breathed a big sigh and thanked God. What better place to be than in your own home during a time of crisis? Those early days were essential as we adjusted to working from home, gathered supplies, checked out our guns (my husband is "that guy"), and prayed. A lot.
It was very similar to what we experience in a hurricane---the preparation and anticipation of the storm. But this was different. There is no storm to weather and recover from. There is no end in sight. There is no knowledge of what else will be asked of us. And still---peace.
Time and time again, I come back to the Scripture: "And the peace of God, which transcends all understanding, will guard your hearts and your minds in Christ Jesus." Philippians 4:7
I don't know what will happen….but I know God.
I don't know if I will get sick…but I trust God.
I don't know if I will have enough food (let's face it, I have enough food)….but my God always provides.
I don't know how my son will navigate the rest of the school year remotely….but I know God loves him more than I do.
I don't know how the economic impact will affect me and mine….but God has my back.
I don't know how long my extroverted self can be away from my people….but God hears my heart.
I don't know, I don't know, I don't know….but I DON'T HAVE TO.
I leave you with this thought today as you navigate your own Crisis Cycle. It's an oldie, but a goodie and my all-time favorite Scripture:
"Trust in the Lord with all your heart
and lean not on your own understanding;
in all your ways submit to him,
and he will make your paths straight."
Proverbs 3:5-6


Remember those other crises God has brought you through? You can depend on Him. Stop trying to figure it out; you're not going to be able to and, more importantly, you don't have to. God's got this. Rest in Him.