Our member spotlight for November is on Matt and Alli Owen, who are already quite the celebrities after a number of national articles highlighted the couple recently, including MSN Money.
Though they never anticipated "retiring" quite so early in life, the couple, Medi-Share members since April 2018, used their financial savvy to quit their day jobs and strike out on their own adventure.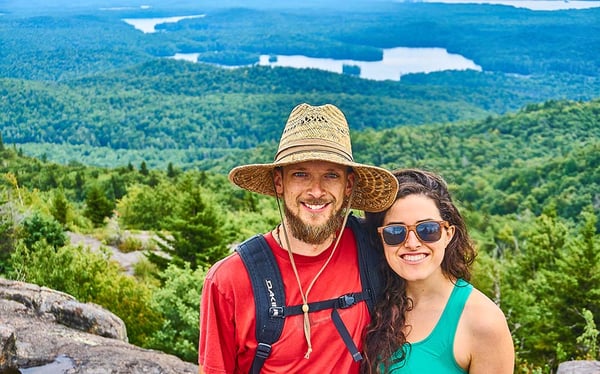 Q: Tell us a little about your family and what you do.
A: My husband and I worked as engineers for four years, eventually saving 70 percent of our incomes. In April of this year, we gained the confidence to take the leap into full-time entrepreneurship. We travelled around the US and Canada for six months before settling down this winter outside of Aspen, Colorado. Our businesses are financial coaching and education services, and a ketogenic diet treat company.
Q: How did you wind up doing what you do?
A: Initially, we were pursuing traditional FI (Financial Independence), hoping to leave our jobs after 10 years of work. But, due to a deterioration of mental health and long hours at work, we took the leap early, confident that we will make money in our "retirement."
Q: How does your faith/Christianity speak into what you do?
A: Faith leads the way in every aspect of our business. Being a full-time entrepreneur, there are lots of ups and downs, and sometimes the downs seem more significant than the ups. Our faith keeps us grounded and hopeful that God works all things (even the downs) for His good. Faith gives us purpose.
Q: If you could give one free tip to those wanting to just get started on a journey to better financial health, what would you say?
A: Understand your money habits and patterns, why you spend money, and how to plant healthy patterns and habits that are in alignment with your goals.
Q: What has being a part of this community of believers been like for you?
A: Prayer is powerful, and there is a peace of mind that comes from knowing there is a supportive community behind us, ready to pray and support us through medical expenses.
Q: How does being a Medi-Share member fit into your role as financial bloggers?
A: Being Medi-Share members gives us the freedom and confidence to pursue our goals wholeheartedly. For many, health insurance keeps them in jobs they dislike. For us, Medi-Share gave us an affordable healthcare option to pursue our entrepreneurial passions.
Q: Bonus question: Since we met at FinCon, what has it meant to you or what has your experience been like as a part of the FinCon community?
A: Being a part of the FinCon community is the best! (And I don't say that lightly.) When we're in our day-to-day lives, it's hard to talk to other people about what we're doing and the legacy we are trying to leave. When we go to FinCon, there's a community of 2,000 other people who just GET IT! It's absolutely refreshing and has inspired us to keep on pressing on, even when the going gets tough!
Saving money on their healthcare is just a part of what helps the Owens stay financially secure and able to live out their calling. Want to know how much you could be saving on your healthcare? Find out today!