"Now faith is the substance of things hoped for, the evidence of things not seen," Hebrews 11:1 (NIV).
Faith, hope, and love are inextricably intertwined. Love always hopes because for those we love, we cannot help but believe (have faith) for a positive outcome, no matter the circumstances.
Love demands that we hold firm to God's promises and continue to hope and believe for that which we have not yet seen come to pass.
. . .
My son and his precious wife courageously walked through one of life's most difficult circumstances: a diagnosis that their unborn son had conditions that were "incompatible with life."
Early in the second trimester they were given the diagnosis, but love demanded that they hold on to God's promises for their son. Hope implored them to pray for God's purposes to be fulfilled for their son and for their family.
Love gave us hope and inspired us to pray for a miracle.
Lamentations 3:24-26 says, "I say to myself, 'The Lord is my portion, therefore I will wait for Him. The Lord is good to those whose hope is in Him, to the one who seeks Him, it is good to wait quietly for the salvation of the Lord."
Joshua Henry Eley was born on September 3, 2011.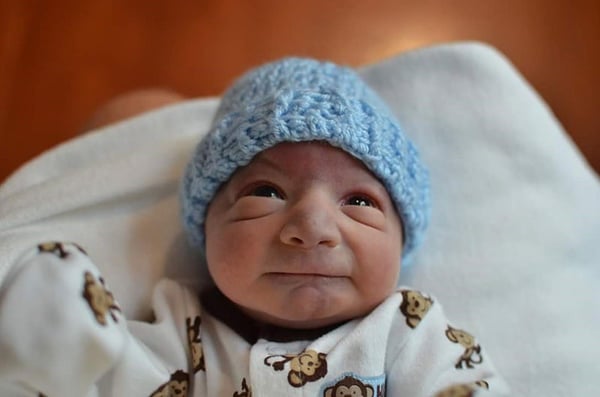 We rejoiced in his birth, we held him, loved him, and blessed him. He lived for less than 24 hours, but his life dramatically impacted our family, our church, and our friends.
Love demanded that we never give up hope. Love implored Joshua's parents to give God every opportunity to move on his behalf.
Was their hope in vain? Never!
Their experience has allowed them to minister to other families facing a similar diagnosis. Their other children have compassion for those in need and less than perfect.
Their courage, their faith, their hope changed our family and our church. Joshua Henry Eley left a legacy because of hope.
Love is hope, and hope never fails.
Whatever circumstances you are facing, don't allow the enemy to destroy your hope. Stand on the promises of scripture and pray, believing that God's word does not return to Him void.
Psalm 130:5 tells us, "I wait for the Lord, my whole being waits, and in His word I put my hope."
Ask God to show you a scripture that you can stand on in the midst of the circumstances, believing in hope that His promise will be fulfilled.
Remember, faith, hope, and love are inexplicably intertwined.
As we hope, standing on God's promises, our faith is bolstered and we can rest in peace.
Philippians 4:6-7 reminds us, "Do not be anxious about anything, but in every situation by prayer and petition, with thanksgiving, present your requests to God. And the peace of God, which transcends all understanding, will guard your hearts and your minds in Christ Jesus."
Bring your concerns for those you love to God and rest in His peace, believing in hope that He, "is able to do immeasurably more than all we ask or imagine, according to His power that is at work within us," Ephesians 3:20 (NIV).
Hope does not always manifest the outcome we desired, but hope allows us to rest in the assurance that God will "work all things together for good for those who love Him, to those who are called according to His purpose," Romans 8:28 (NKJV).
In the midst of your circumstances, rest in God's hope.
Hope never fails.
"I pray that the eyes of your heart may be enlightened in order that you may know the hope to which He has called you, the riches of His glorious inheritance in His holy people and His incomparably great power for us who believe," Ephesians 1:18 (NIV).
What scriptures help you hang on to hope in the midst of trails? Share them in the comments!