It's almost December and that means it's time for all the Holiday festivities and Christmas cheer! 2020 has been a long year full of twists and turns for just about everyone. We are all in need of our spirits to be lifted and to celebrate the joy that the season of Thanksgiving and Christmas should bring to everyone's hearts!
In light of bringing Holiday cheer, Medi-Share has teamed up with worship duo Caleb + Kelsey to present a very special event called "LIVE from the Family Room with Caleb + Kelsey". This FREE virtual event will take place on Facebook, November 19th at 8pm EST, the Thursday before Thanksgiving!
Before all the hustle and bustle begins, Caleb + Kelsey want to sing new songs from their Worship Vol. II album LIVE from the family room! They'll also share some family stories and kick us off in celebrating the holiday season.
This will be a great opportunity to gather your family and friends together to listen to some uplifiting worship music, drink some hot tea, coffee or hot chocolate while they share friendly lighthearted stories and to be present with your loved ones during this holiday season!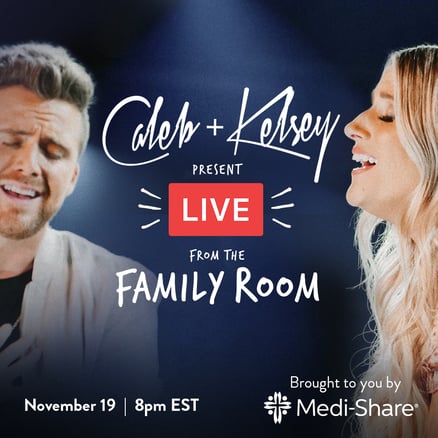 Come join us for some incredible worship mashups and soul-refreshing entertainment, you won't want to miss this one!


To learn more or REGISTER NOW for this FREE virtual event, check out the Facebook Event page and follow the call to action below. Please feel free to share this event with your family and friends, the more the merrier!