Thanksgiving has always been my favorite holiday. Since I was a kid, I could be anywhere else in the world for Christmas, but home is where I have always wanted to be on this day.
Thanksgiving has always meant family, food, and football to me. Most importantly, family. We either lived with or next door to my grandparents for nearly my entire life until I left for college. Even then, I always looked forward to coming home for time with my family.
Our traditions of cooking together while watching the Macy's Thanksgiving Day parade, watching Detroit Lions football in between servings of food, and playing cards until late in the evening lived on until my grandparents passed away.
Now that I have a family of my own, I'm eager to start new traditions with them. I know my girls are still young and any major traditions may not yet be meaningful or take root, but one thing I do want to instill in them now is the good habit of giving thanks.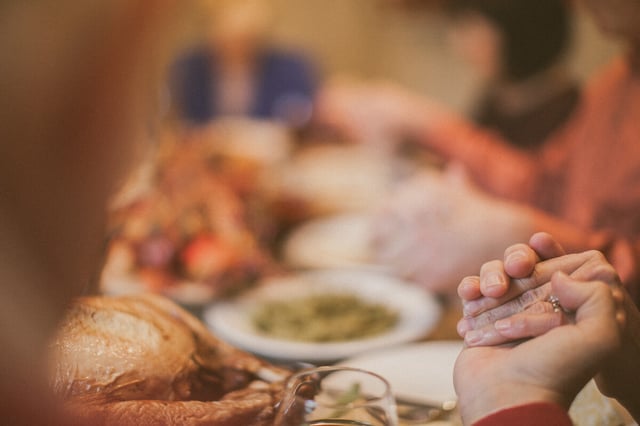 And we have taught them the importance of being thankful and grateful. Our oldest was saying "kan-koo" (thank you) at 11 months. We've also made it a priority to sit down to eat together as often as possible and hold hands as we thank God for our food and for blessing us. Thankfulness should be a natural mindset as children grow up, as everything belongs to the Lord and He provides for His children according to His sovereign will.
"Rejoice always, pray without ceasing, in everything give thanks; for this is the will of God in Christ Jesus for you." 1 Thessalonians 5:16-18
But what happens if you're not feeling especially grateful.
I'm not naïve. I'm well aware there are some pretty awful circumstances in life that leave us feeling a little less than thankful at times. Life is not a bed of roses. In fact, Jesus warns us of this in John 16:33.
"These things I have spoken to you, that in Me you may have peace. In the world you will have tribulation; but be of good cheer, I have overcome the world."
How can we maintain a thankful heart when our troubles threaten to overtake us?
In addition to God's Word, I have always turned to music for comfort. I love to sing and music ministers to my soul in a very powerful way. There are some extremely talented artists out there who produce amazing songs for the Lord – some new on the scene, some who've been around for decades. However, one little tune keeps circling around in my head and my heart. It's a short song that I must have learned in Sunday school as a child.
"Give thanks with a grateful heart
Give thanks to the Holy One
Give thanks because He's given Jesus Christ, His Son
And now let the weak say, 'I am strong'
Let the poor say, 'I am rich
Because of what the Lord has done for us.'"
There is a richness in this one little verse and chorus that holds the key to nourishing a thankful heart, no matter what life has thrown at us.
We can be thankful because God gave us His Son. And truly, Jesus is enough. If there seems to be nothing else to thank the Father for, start with Jesus. It is because of the death and resurrection of the Son that we can say, "I am strong" (2 Corinthians 12:9). It is because of God's sacrifice that we can pronounce, "I am rich" (Philippians 4:19)!
This Thanksgiving, are you struggling with hurts, rejection, shame, anger, or bitterness?
Give thanks for Jesus.
If you don't know Him as your personal Savior, today is the day! He came to give us life, and to give it more abundantly (John 10:10). He will turn your ashes to beauty (Isaiah 61:3) and give you a heart of thanks.
. . .
So I don't yet know what our future family traditions will be, but I'm enjoying the journey and seeing how our girls respond to us teaching them about each holiday, and about Jesus and what He means to us personally.
Today, as we get ready to eat all the food, watch the parades, and partake in a number of other Thanksgiving family traditions, whatever they may be, let us first and foremost put on an attitude of thankfulness "for what the Lord has done for us…
Give thanks."