Though most of the world is emerging from pandemic-related travel restrictions and safety concerns, one good thing to come out of the last few years is the popularity of exploring more "local" travel on a tank-full. It's amazing how many incredible places are within a few hours' drive from your home! In this post, we'll share some tips and tricks for exploring your own backyard on a single tank of gas.
Consider your Travel Companions
Aside from deciding where to go, it's likely that the most important consideration is who you will travel with. Will this be a family affair with the kids, the family dog, and all that comes with that type of trip? Do you need a getaway with your best friend or group of friends, exploring and making memories together?
Or perhaps it's time you took some time out for yourself. According to Travel Daily Media, 1 in 4 Americans will likely vacation solo in 2023. There are definite advantages to going it alone, including being in charge of your own destination(s), keeping costs down, and being more open to meeting new people and making new friends along your journey.
Plan Your Route and Identify Key Points of Interest
Before embarking on your backyard adventure, it's important to plan your route and identify key points of interest. One way to do this is by utilizing online resources such as Google Maps, TripAdvisor, or Yelp to find hidden gems in your area. These resources can help you find local parks, hiking trails, scenic drives, or even historic landmarks you might not have known existed.
You can also reach out to your local tourism board or visit their website to find information on upcoming events, festivals, or outdoor activities. This research will help you stay on track, avoid getting lost, and be more efficient with your time. But keep in mind that the goal of this trip is to explore, so leave some room for spontaneity and unexpected discoveries.
Pack Efficiently to Maximize Your Travel Time
When exploring your backyard, it's important to pack efficiently to maximize your travel time. You don't want to spend time digging for things in your trunk or wasting time lugging around heavy bags. To ensure you have everything you need, create a list of essentials before you depart. Items to consider include sunscreen, bug spray, a first aid kit, snacks, water, a camera, a phone charger, and a good pair of walking shoes. Don't forget to pack a paper map (remember those?), just in case you lose cell service.
Depending on the season, you may want to pack extra layers or rain gear. It's also crucial to pack light, especially if you plan on hiking or walking. Consider using a backpack instead of a purse or a bulky bag and wear comfortable clothing.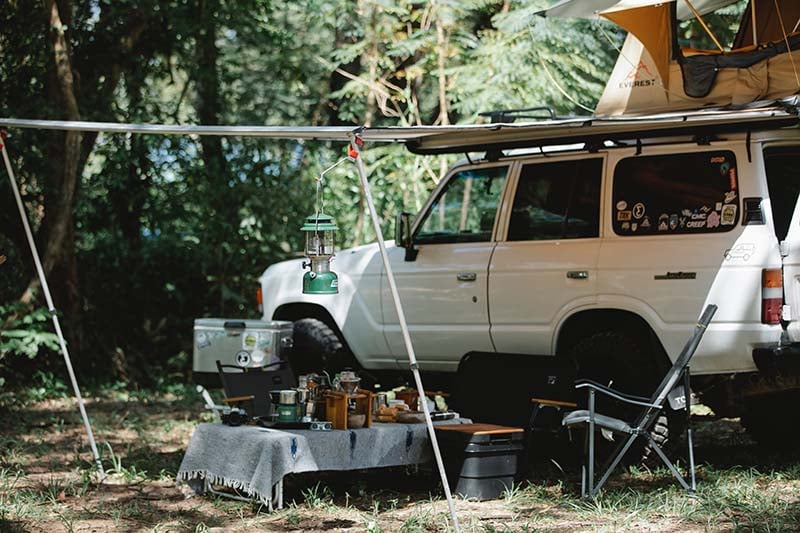 Photo by Uriel Mont
Decide How Long You'll Be Gone
In order to properly budget for a trip, you'll need to decide how long you plan to be away from home. Shorter day trips are cost-effective ways to explore without breaking the bank, though it may limit how far you are able to go.
If you plan to stay overnight anywhere, consider your preferences and budget concerns. The more adventurous types may opt to "rough it" by camping under the stars in places like private campgrounds, or check the local, state, or national parks in your area for camping opportunities. If that doesn't sound like your cup of tea and you don't want to overnight it without your creature comforts, you may consider looking on sites like VBRO for potential cost-saving options over hotels.
Take Advantage of Local Attractions and Activities
Now that you have planned your route and packed your essentials, it's time to explore local attractions and activities. Here are some of our top recommendations:
Explore Nearby Parks and Trails
Parks and hiking trails are always a great option for outdoor enthusiasts. Local parks provide visitors with a chance to experience nature and fresh air, and many have well-maintained trails for walking or cycling. You can also opt for scenic drives through parks or wilderness areas to explore the natural beauty of the area.
Visit Museums and Cultural Centers
Visiting local museums and cultural centers is a great way to learn more about the area's history and culture. Museums often feature exhibits on local art, artists, history, and artifacts. They may also have interactive displays or events, which can be informative and educational.
Attend Local Events and Festivals
Checking out local events and festivals is an excellent way to immerse yourself in the local culture and meet new people. Depending on the season, you might find live music, food festivals, farmers' markets, or craft fairs.
Try Local Food and Drink
Finally, don't forget to try local food and drink. Each region has its unique cuisine, and exploring local cuisine can be an unforgettable experience. Supporting locally-owned eateries to sample local specialty dishes is a great way to boost the local economy. Your social media connections probably have some great recommendations for local fare, so why not ask?
Don't Forget your Actual Backyard
As we head into summer months, there is no lack of reasons to get out and do something… literally in your backyard! Have a tent but not the time or money to travel? Kids may relish the idea of camping out in their own yard with the comforts of home (like extra food!) nearby. Or go explore parts of your neighborhood previously unseen on a family bike ride. Possibilities abound without hopping in the car at all!
Conclusion
Exploring your backyard is an excellent way to get a change of scenery without traveling too far. With a bit of planning, research, and packing, you can create an exciting adventure you'll remember for a long time. So, put on your hiking boots, pack your essentials, and hit the road for an adventure. Happy Exploring!