Each year, Christian Care Ministry's Board of Directors recognizes outstanding employees for service excellence, among other things, by awarding their Chairman's Awards. One of the Ministry's recipients this year, Roberta (Bobbie) Forney, is our Employee Spotlight for March.
"I was completely blown away when I was told I won the Chairman's Award," Bobbie said. "I don't think of myself as being on 'that' level. I just come to work every day and give my all!"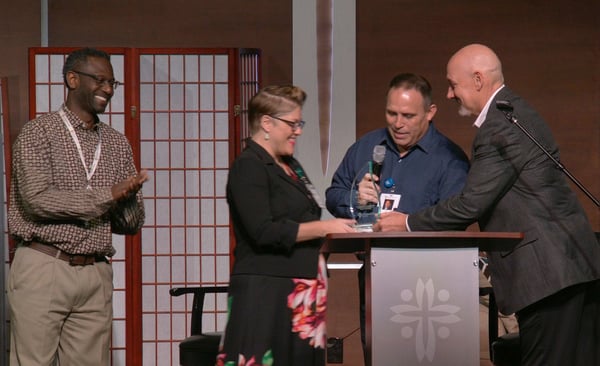 Bobbie receiving her Chairman's Award at an employee chapel service.
Bobbie Forney left employment with the Internal Revenue Service to come to CCM in our Member Services Department. She swiftly rose through the ranks to become a Member Services Manager.
We recently had the chance to ask Bobbie more questions to get to know one of our most hard working employees:
Q: How long have you worked at the Ministry and in what capacities?
A: I started with CCM in October of 2015 so I've been here for about 3 ½ years! I came in as a Member Services Representative, then became a Lead, then Tier 3, then a Member Services Manager. In May of 2018 I became a full-time Knowledge Base Representative for our Contact Center.
Q: What led you to CCM?
A: When we moved to Melbourne in July of 2015, it was to transfer my position with the Internal Revenue Service which would start in October of 2015. In August I was notified that my transfer didn't go through. That was a scary feeling… no job and only enough money to get us through October! But, as I searched for employment, I felt led to search 'Christian employment' and found a listing for CCM. I applied and was hired. I got my first paycheck October 28, just before our funds were gone. God's timing is so perfect and I am so blessed to be here!
Q: What did it mean to you to be nominated and win the Chairman's Award?
A: When Shameka (fellow employee) called me on vacation as soon as it was announced, I was pretty speechless and began to cry. But, I humbly receive and celebrate God's favor during this season.
Q: Where did you grow up?
A: I grew up in Hanover, MD about 10 miles outside of Baltimore. Now we LOVE our new 'hometown' of Melbourne, FL.
Q: Tell us about your family.
A: I have been married to my husband Jacob for almost 15 years and we have two fabulous, joyous children: 12 year old son, Levi and 10 year old daughter, Gracie.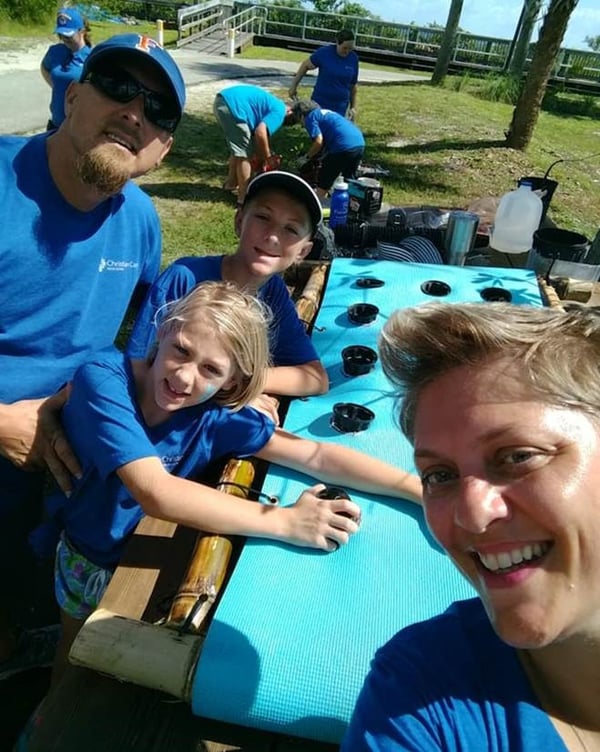 Bobbie and her family serving in the community during CCM's Day of Sharing 2018.
Q: How did you come to know the Lord/what is your testimony?
A: I came to know the Lord when I was about 28 years old. I had struggled with alcoholism and a pretty reckless lifestyle in general for many years. I began feeling God's pull on my heart months before I was saved. I started reading the Bible my Dad had given me many years before. Then, my cousin was in a drunk driving accident that put him in a coma. I really drew close to the Lord during that time and asked Him to be my Lord and Savior just days before my cousin passed away. My life has been forever changed and I love dancing through life with Jesus!
Q: What kind of church activities are you involved in?
A: I am on rotation to teach Children's Church every four months at our church; I love those kids!! I also just recently accepted an assignment to serve on our Pastor's Council.
Q: What are your hobbies or passions?
A: My Family and I love spending time at the beach with our toes in the sand! I am passionate about lifting others up who are going through 'life' and try to find different ways of encouraging people throughout the day.
Q: Anything else you would like to add?
I love lipstick, romantic comedies, and most anything chocolate!
If you are interested in working at Christian Care Ministry, check out our current open positions.