Each year, Christian Care Ministry's Board of Directors recognizes outstanding employees for service excellence by awarding their President's Awards. One of the Ministry's recipients this year, Erin Englert, is our Employee Spotlight for January.
When asked what it mean to her to be nominated and to win the award, Erin exclaimed, "I was just so shocked and honored. This year has been one of stretching and growth in my career, and receiving the President's Award was incredibly encouraging. In some ways I don't feel worthy to receive such an honor, but all the praise and glory goes back to God. His hand has been so evident in my time at CCM, and I can't thank Him enough for his provision and care.
We recently had the chance to ask Erin more questions to get to know one of our most hard working employees:
Q: How long have you worked at the Ministry and in what capacities?
A: I will have worked at CCM for 2 years this January! I came on as the Receptionist for our Colorado office. After about six months, I transitioned to being an HR Assistant, and now I'm in the Communications department as a Communications Coordinator.
Q: What led you to CCM?
A: I had just come from two different careers working in education and then full-time youth ministry, and was looking for work that was fulfilling but didn't demand so much of me during my out-of-office hours. Being newly married, I wanted to be able to clock out and leave my work at the office for a time as I focused on home life with my new spouse. God led me to Christian Care Ministry, and it was a perfect respite for my weary soul. It quickly felt like home as I was befriended by so many of the amazing individuals that work at CCM. It has been an incredible blessing to me, and I'm thrilled each day to be able to contribute to God's mission here.
Q: What are your hobbies or passions?
A: I love art. At this time, I'm enamored with making functional pottery, and selling it on the side for fun. I also enjoy pretty much anything that takes place outside―hiking, camping, hunting, mountain biking, and rock climbing. Since getting married in 2017, I've also really enjoyed cooking and trying new recipes at home.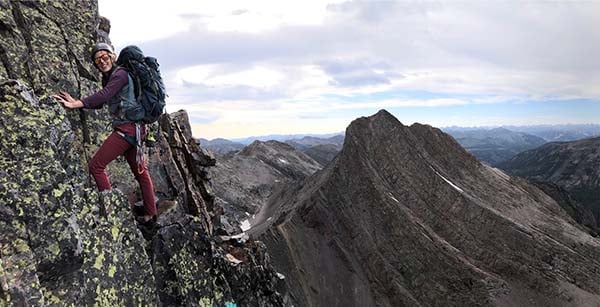 Q: Where did you grow up?
A: I was born and raised in Des Moines, Iowa. It's pronounced "Duh Moyn" in case you're wondering.
Q: Tell us about your family.
A: I was raised in a Christian home. My dad is a computer programmer and my mother is an English professor at Drake University. They have always been supportive of me. In addition, I have two older brothers, a younger sister, and some incredible in-laws, but the main event are the nieces and nephews. Including my husband's family, we have 15 nieces and nephews in total! They're all such a blessing and bring such joy to family gatherings.
Q: How did you come to know the Lord/what is your testimony?
A: As mentioned previously, I grew up in a Christian home. I made a profession of faith around the age of 5 but I don't really remember it at all. This used to bother me a lot, but my faith story has been typified by a "gradual knowing" of the Lord rather than a striking conversion story. In college, I remember finally understanding what God's grace meant and the truth that salvation was a free gift. Nothing I could do would affect God's unconditional love for me. Prior to that, I was in many ways trying to be "good enough" for God, which is simply impossible. Trusting in God's promises and resting in His grace has completely transformed my Christian walk.
Q: What kind of church activities are you involved in?
A: Prior to CCM, I was employed as the Girls' Discipleship Coordinator for my church. After leaving that position, I decided to step away from programmatic ministry for a time. For now, I am involved in brewing coffee on Sunday mornings, and we attend a Bible study. We also host community events at our house from time to time. In 2020, I'm hoping to get involved again in either our children's ministry or women's ministry.
Q: Anything else you would like to add?
A: Nothing really! I'm so blessed to work at CCM, and I really love my co-workers. It has been a wonderful place for me to rest and grow into what God has for me during this season of life.
If you are interested in working at Christian Care Ministry, check out our current open positions.