By Jennifer Driscoll
Recently I had a disagreement with my husband and we weren't speaking, and it made everything else just feel "off."
That disconnect from the person I have become one with impacts everything else in my life and can throw my whole day off. My mind is distracted, my emotions are heightened. Nothing seems right.
I need that sense of security that comes from us being in one accord.
I've heard from those that have been married a long time and are about to end their marriage that the longer they stay disconnected to their spouse the more accustomed to it they become. After a while it's the new norm.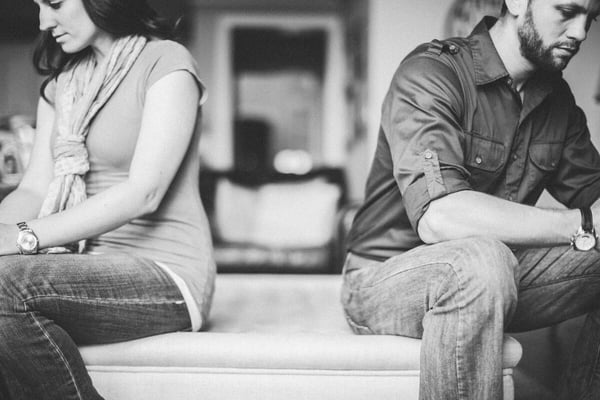 I felt that tug from the Holy Spirit during our last disagreement.
I felt Him asking me, "Do you feel the distance when you haven't spent time with your Heavenly Father? Do you notice the impact it has on your life, the way you talk, the way you react, the thoughts you have, the actions you take? Do you notice the lack of patience, lack of grace, lack of compassion that so easily entangles you after you've spent too much time away from the truth?"
Why does it take desperation to draw me back to the very place that makes everything else ok?
When it seems like everything in my life is too hard, when I feel too tired to handle the simple tasks and when I feel overwhelmed by all the things lingering ahead, it's because my most important relationship has not been tended to.
I've heard that too many moms (including myself) do not take time to take care of themselves. This includes physical and spiritual health. We give and give and give until our well feels as if it is bone dry.
Then what? We cry at nothing, we snap at our children, we yell in traffic, we complain, and… we see clearly our spouse's faults.
"The lions may grow weak and hungry, but those who seek the Lord lack no good thing." Psalm 34:10
Young lions depend on their parents to supply the food needed so they can grow, gain strength, and be equipped for daily survival. It is possible, however, that their parents are not able to provide, they may fail to give what those young lions need the most.
In the verse above, we are given a promise; if we are leaning on the Lord for what we need, we will NEVER go without, He will NEVER fail us, He will NEVER let us down.
Maybe right now you are waiting for an answer to prayer and you don't understand why God hasn't provided it. It could be a reason that only makes sense to the God whose thoughts are not our thoughts, the God who goes before us and makes our crooked paths straight. A God who promises that HE supplies what we NEED.
Maybe today, you are feeling weak and weary and in the midst of suffering, and it just doesn't make sense. What you can do to bring peace is to stand firm on the promise that those who seek the Lord will not lack anything.
You can find peace and joy in the midst of pain when you seek the Lord and allow His truths to penetrate your heart.
It's time to nurture the most important relationship in your life. You CANNOT give what you do not have and you cannot give without feeling the pain of the withdraw until you are filled to the point of overflow. When there is overflow, each place you set your feet, each time you open your mouth, what's overflowing will make an impact.
Spend quiet, alone time with the One who IS love and promises to meet all your needs according to HIS riches in glory.
What scriptures fill you with peace, joy, and hope in the midst of hard times? Share in the comments below,