It's no secret that as believers we will face many trials and tribulations, and in this life, we will have burdens. Sometimes our burdens can weigh us down and make us feel isolated and defeated, but the good news is we don't have to carry burdens alone. (Yes, introverts, God actually created us for community.)
"Carry each other's burdens, and in this way you will fulfill the law of Christ." Gal. 6:2
Sharing burdens is at the heart of all that we do at Medi-Share. Health care costs can be a major financial burden, but that's what Medi-Share members appreciate about being members---that others are bearing the burden of their medical expenses, and they are helping others do the same. Being part of the Medi-Share family means we support and encourage one another, and when all hope seems lost, we pray for each other. We do health care the biblical way.
The Power of Community
When you are going through trials, there's nothing like having a support system around you and if you are going through difficult times, know that God didn't intend for you to carry burdens alone.
Whether you're on the mountain top or in the valley, having people around you to pray, mourn, and celebrate with you is what God wants for us. Jesus could've done it all on his own, but he took 12 friends with him. (Be encouraged introverts! Even Jesus needed times of solitude away from his disciples.)
Our Medi-Share community was inspired by the early church in the book of Acts. It's a great example of the power of community and what God does when believers come together. As the early church members grew in their relationships with one another, they were growing in their relationship with the Lord, and He blessed them and increased their numbers daily.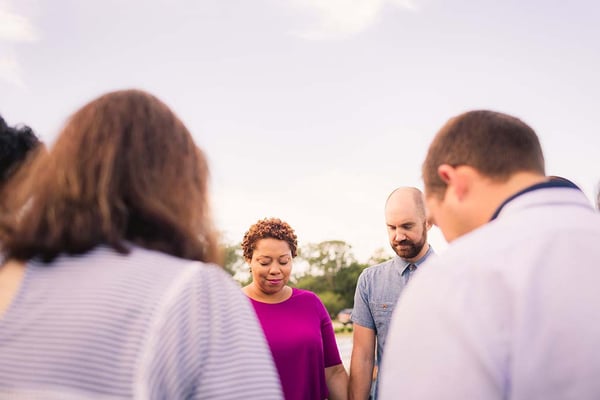 "They devoted themselves to the apostles' teaching and to fellowship, to the breaking of bread and to prayer. Everyone was filled with awe at the many wonders and signs performed by the apostles. All the believers were together and had everything in common. They sold property and possessions to give to anyone who had need. Every day they continued to meet together in the temple courts. They broke bread in their homes and ate together with glad and sincere hearts, praising God and enjoying the favor of all the people. And the Lord added to their number daily those who were being saved." Acts 2:42-27
Take heart, because He has overcome the world, and remember that the Medi-Share community is always here to encourage you and to lift you up in prayer. You're not meant to carry your burdens alone.
If you've already seen the film 7 Yards, please let us know how it impacted you! Would you take a moment to share this blog post or share this film with family and friends? With all that's going on in the world today, let's spread faith, hope, and love like wildfire.