One of the biggest reasons my wife and I made the move from Wisconsin to Orlando is because there are so many things to do. With amazing restaurants, theme parks, entertainment venues, and more, there are a plethora of options for a great night out.
But, there's one problem with this list of date night ideas – they're expensive.
Just because you're on a budget doesn't mean you can't have a great time! With a little creativity, you can plan an amazing date night without spending a fortune.
Here are some tips to help you get started:
1. Set a budget for the date
Decide how much you are willing to spend and stick to it. It can be a little bit of a pain, but taking the time to understand your finances can go a long way and make planning your time together a lot easier. If you need a little help, here is the process my wife and I use:
After figuring out what our monthly income is, we subtract everything we need for bills and other expenses. What we have left is then split in half. One half goes into savings and whatever is left is our date/fun money. Of course, everyone's situation is different, but this is a place to start.
2. Make a list of activities
What are your interests? What would you like to do together?
If you're anything like us, you might spend the beginning of your date nights arguing about what to do or where to go, only to end up doing the same thing you've already done a hundred times…or perhaps you end up not doing anything at all.
The key is finding something to do based on a common interest. Like discovering new food? See if there are any fun food trucks around. Nature lovers? Go on an adventure and find some scenic walking/hiking trails.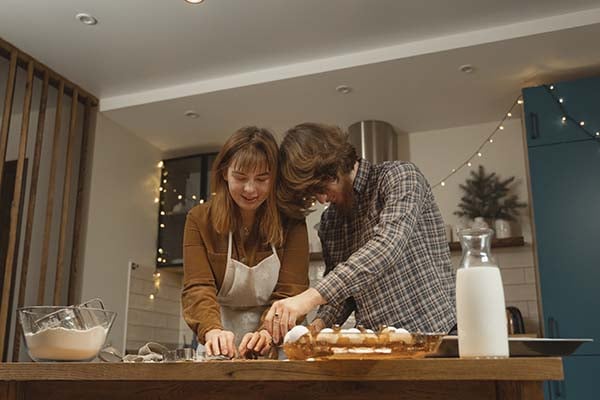 Photo by Tima Miroshnichenko
3. Find low-cost options
There are plenty of things to do that don't cost a lot of money. Get creative! You may be surprised at how much money you can save.
There's no shame in coupon and discount-hunting. I've found that doing this actually has more benefits than just saving money. It has helped me discover new things to do and new places to go. A great place to start would be to check out local groups on social media or apps such as Groupon.
4. Make the most of your date night
Even if you're not spending a lot of money, you can still have a great time together. Sometimes you don't have to go anywhere! Take advantage of the seemingly endless supply of streaming services out there and binge-watch a new TV show, set up a romantic picnic in your own backyard, find something new to cook together, or for those super romantics among us, you can write love letters to one another or create gifts using only what you have around the house.
There are countless things you can do to have the perfect date night without having to loosen the purse strings. Sometimes you just have to think outside of the box or try something new. The important thing to remember is that it doesn't matter what you do, as long as you do it together.
"Let all that you do be done in love." 1 Corinthians 16:14