COME ON IN
I recently moved back to my native state of Mississippi. We are the Hospitality State. (Google it if you need proof. I did and found, 11 Things That Prove Mississippi Truly Is The Hospitality State.)
There are phrases in the home state that have stood the test of time. One is, "Come on in!" I have been welcomed into homes as people have invited the new pastor to have dinner. I go to the door and they say, "Come on in!" I have visited several Bible Study classes on Sunday mornings and gently knock on the door. You got it, they say, "Come on in!" I love it!
I think we all enjoy a warm welcome. Sometimes moving can be difficult. Even though you know you are where God wants you to be, there are times you are lonely. New home, new friends, new roads, new doctors, etc.
You know what it can be like to be lonely if you lived through the pandemic of recent years. I'm thinking I probably speak for a lot of us who were disconnected from family, friends, and even our church family. Now, we had social media. Thank the Lord! But we just couldn't… come on in.
Most of us have now been able to see family members who we were unable to see due to travel restrictions a few years ago. Most have gone back to work and have multiple opportunities to hang out with friends. But not everyone has gone back to church.
Sure, campaigns have helped. My former church had Back to Church Sunday. It was somewhat successful for the day. But there are some who have still not consistently "come on in."
Why have some believers not been active in a church recently?
Reasons vary. Maybe they got out of the habit during COVID-19. Maybe priorities are not what they should be. Perhaps they need to find another church. Maybe, maybe, maybe…
There are multiple reasons or excuses, quite frankly, as to why. But there are some very good reasons believers should COME ON IN. Let's highlight three reasons based on these two verses:
"And let us consider how we may spur one another on toward love and good deeds, not giving up meeting together, as some are in the habit of doing, but encouraging one another—and all the more as you see the Day approaching." Hebrews 10:24-25
OTHERS NEED YOU
God has gifted you like no one else. The Bible says we are the body of Christ. That means when you are missing, a body part is missing. Are you a hand? A foot?
Regardless, you are part of the body and you are vital to the church fellowship functioning properly. The text says that we are to help folks love and do good. How are we going to do that with excellence if we are not in the room? Come on in!
Are you familiar with the acronym T-E-A-M? Together-Everyone-Accomplishes-More. It's true! The Bible says, "For as the body is one and has many parts, and all the parts of that body, though many, are one body—so also is Christ." 1 Corinthians 12:12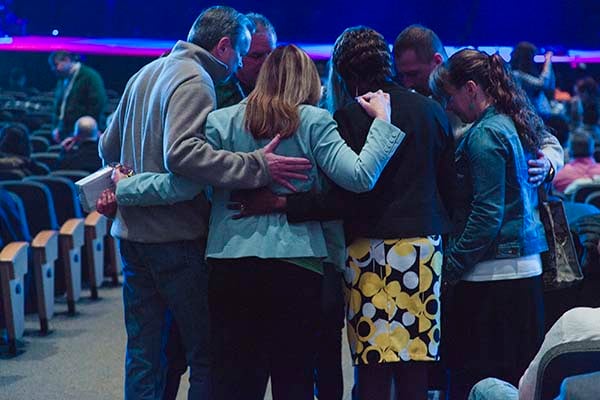 YOU NEED OTHERS
Loneliness is real. You don't have to move to experience periods of loneliness. You can be in the middle of a party with people surrounding you and be lonely. The church is a family and families (no family is perfect) encourage one another. It's natural because we have been blessed and we want to be a blessing. The Biblical word for encouragement basically means to pound courage into someone.
Truett Cathy, founder of Chick-fil-A™ once said, "The way you can tell someone needs encouragement is if they are breathing." Christians need one another. God calls us to be in the world, but not of it. He did not say it would be easy. Being salt and light can be challenging day in and day out. We need to be connected.
Sure, we may be connected to the internet, but that is not the same as truly being connected with one another. There are numerous "one another's" in the Bible. Encouraging one another is especially highlighted for good reasons. Are you deflated? Come on in! Someone may have a holy hug, a timely word, or a smile just for you.
WE ONLY HAVE SO MUCH TIME
Jesus is coming back. I have no idea when and neither do you. But we do know He is, and we should not assume it will not be today.
Both of my two sisters died in the past two years. I tell you that to remind you that we have no idea when the day is approaching. We just know it is. But while we are here on earth we need to be about our Father's business. Church is God's idea. There is no Plan B. The Church was birthed in Acts and the following books of the bible are clear that Church is vital for believers. Friends, we only have so much time. Come on in while there is still time.
I recently read in our local paper, The Daily Leader, that a man was stuck on the roof of one of our local churches. The church had some roof repairs that needed attention and a roofing company was assisting. The only problem was that one of their assistants got stuck due to faulty equipment. Don't worry. He was eventually rescued.
If you are on the outside looking in, for whatever reason, come on in! It is God's rescue plan, and you are not meant to be "stuck" on the outside. Johann Hari so aptly stated, "The opposite of addiction is not sobriety, it's human connection." The Church of Jesus Christ is a community and connection of believers. COME ON IN!