Love Rejoices With the Truth
Surely, most of us are familiar with the Victorian wedding tradition of "something old, something new, something borrowed, something blue."
Whether we are the ones gathering the items to prepare for our own wedding, or are helping a close friend or family member select their items, chances are this tradition comes top of mind when wedding planning.
The "something old" is usually an item, whether given or borrowed, from the matriarch or another female in the family that represents the bride's heritage and connection to the family she is leaving behind. Whereas the "something new" item represents the family she will start with her awaiting groom.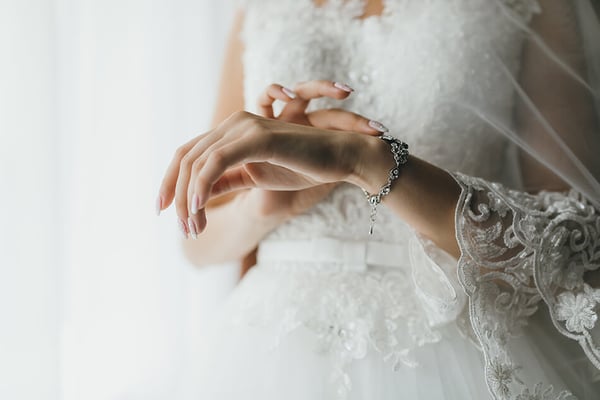 This concept of old and new reminds me of Paul's teaching in Ephesians 4:17-32 on our new life in Christ as believers.
"…put off your old self, which belongs to your former manner of life and is corrupt through deceitful desires, and [to] be renewed in the spirit of your minds, and [to] put on the new self, created after the likeness of God in true righteousness and holiness." v. 22-24
Just as a new bride leaves her old life behind and takes on a new identity as a new family unit with her husband, so it is when we become Christ-followers; we leave our old life behind – a life of corrupt, deceitful desires – and claim our new life in Christ, one in which we strive to continually grow in the likeness of our Savior.
According to 1 Corinthians 13:6, love "does not delight in evil (or as the ESV puts it, wrongdoing), but rejoices in the truth."
We see two sides of the coin here: what love is and what it isn't.
God is love. And because God is love, love must also be holy, righteous, just, truthful, set apart. Perfect.
If we are truly the bride of Christ, living a new life and being renewed in the spirit of our minds, then we must leave or put off our old way of thinking and acting.
We cannot delight in evil. What does that even mean? Here are some thoughts…
Have you ever chuckled self-righteously when a foe was handed their "just rewards?"
Have you ever excused a family member or friend's sinful behavior as not really being "that bad?"
Have you knowingly engaged in something you knew was contrary to God's Word or encouraged others to do so?
Sadly, I know I'm guilty. And those certainly aren't characteristics of what a committed, submitted Christ-follower looks like, are they?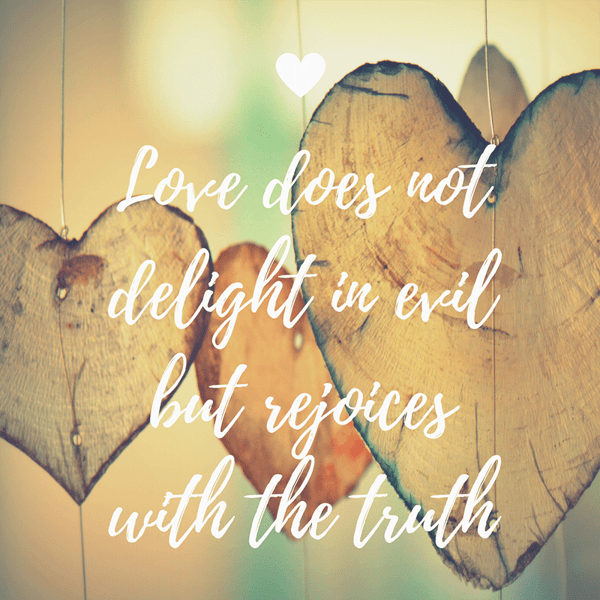 We are new creations in Christ (2 Corinthians 5:17) and as such, we must put off the old self and the things associated with our former life outside of Christ.
But we also must be careful to not let that be the end of it or we'll get off balance. If all we ever do is live by a set of rules of "don't do this" and "don't do that," we have missed the mark of what Paul teaches.
The other side of the coin, of course, is to put on our new self – our new identity in Christ. We are to rejoice in truth because God is the Truth. So we are to love God, what is right and just, and what is honest.
Love and truth go hand in hand. As Ephesians admonishes, we are to speak truth in love. It's all throughout the New Testament, specifically.
Here is one instance that stands out:
"And as he was setting out on his journey, a man ran up and knelt before him and asked him, 'Good Teacher, what must I do to inherit eternal life?' And Jesus said to him, "Why do you call me good? No one is good except God alone. You know the commandments: 'Do not murder, Do not commit adultery, Do not steal, Do not bear false witness, Do not defraud, Honor your father and mother.'" And he said to him, 'Teacher, all these I have kept from my youth.' And Jesus, looking at him, loved him, and said to him, 'You lack one thing: go, sell all that you have and give to the poor, and you will have treasure in heaven; and come, follow me.' Disheartened by the saying, he went away sorrowful, for he had great possessions." Mark 10:17-22
Notice verse 21 where Jesus loved him and spoke truth out of that love for him. Jesus knew the condition of this man's heart. He knew what the man needed to let go of in order to fully follow Him. Unfortunately, the truth greatly saddened this man, even to the point of walking away from eternal life.
That is how it is sometimes with others. But regardless of the outcome, we have to love them enough to be able to tell them the truth.
No, that's the wrong path, and I'm afraid for you if you continue down this road.
Is our love a love that rejoices with the truth? Do we truly love others enough to be honest with them? There will likely be times when loving truth, loving Christ, and loving God's Word will put us in a place where people don't like us much. Sometimes loving the truth may bring us to a place where we are vulnerable to hurt or retaliation.
But this is all part of putting on our new self and aligning ourselves with Christ. There are many marks of a converted Christian – characteristics lined out in scripture that, as we mature in our walk, we'll be more and more able to emulate.
Loving and walking in truth is certainly an important part of that new self and one way we will be "known by our fruits."