Colton Dixon is Sharing Hope
It's #SharingHopeSunday and we're featuring Colton Dixon, singer/songwriter, American Idol finalist, and Dove Award winner.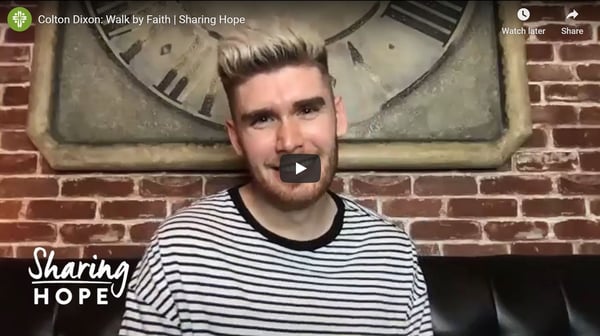 America first heard of Colton Dixon when he competed in the eleventh season of American Idol and placed seventh in the competition. After that experience, he returned to his first love, Christian music.
Colton's 2013 debut album, A Messenger, set the record for biggest first-week sales by a new solo Christian act, becoming the No. 1 selling album of 2013 by a new Christian artist and the No. 9 best-selling album of 2013 in the Christian genre overall. A Messenger also became the No. 22 best-selling album across all genres that same year.

Colton received three Dove Award nominations, winning for Best Contemporary/Rock Album, and he was nominated for Male Artist of the Year at the 2014 KLOVE Fan Awards. Colton also racked up two No. 1 radio singles in 2013 and toured with Third Day, TobyMac, and Josh Wilson.

Recently named an Official Steinway Artist by the legendary piano maker, Colton and his wife, Annie, live in Nashville and are expecting twin girls in late summer of 2020.