Missionaries are incredible people who do amazing work to further the Kingdom, spread the gospel, and help those who need it most. They are mentors, role models, and an inspiration to Christians everywhere. And yet, being a missionary comes with some significant obstacles beyond what one might expect.
Health insurance wasn't designed for missionary work
The health insurance options that most Americans have were created with the average person in mind — someone who lives in one place and works one job. There are provisions for major life events, such as moving or having a baby, but these are considered exceptions to how coverage usually works.
On the other hand, missionaries live a life outside what the typical person experiences. They often come in and out of the country, living in multiple places throughout the year. They might be professionally employed or they may live off of support from the church. Some missionaries live overseas for just a month or two, while others commit to serving a specific community for years.
When all of these factors combine, the result is that missionaries have a much harder time than the average person finding — and keeping — affordable health care options for themselves and their families.
Where health insurance falls short for missionaries
- Costs can change dramatically depending on where missionaries serve and how long their mission lasts.
- Because of the added risk, many missionaries pay more for health insurance than the average person.
- Most options don't follow missionaries overseas and must be re-applied for upon returning to the United States.
Why missionaries need insurance
Missionaries must face many risks when traveling and serving abroad. First, there are the typical issues that all travelers face, such as exposure to new illnesses. Then there are the dangers that specifically come with missionary work, like serving in areas of civil unrest or where natural disasters have occurred or are likely to occur.
- You are 100x more likely to get sick while traveling, regardless of where you are traveling to.
- Nearly 80% of people traveling to developing countries contract some illness.
- Kidnappings still happen — 782 people were kidnapped in Haiti in 2021 alone
Missionary insurance is important to have in case unfortunate circumstances arise, but it is also mandatory to enter in many countries. There are 38 countries that require some form of travel insurance to enter. Any missionaries that want to work in these places must have insurance to do so.
Reliable health insurance alternative for missionaries
The good news is that missionaries aren't limited to the insurance market to get peace of mind and financial support for medical costs. One of the best insurance alternatives is health care sharing organizations like Medi-Share.
With a health care sharing ministry, members contribute a monthly share to pay for the eligible medical bills of other members. It's a biblical way of supporting one another modeled for us by the early church in Acts. There are many benefits to choosing a health care sharing ministry like Medi-Share over other health care options.
First of all, Medi-Share goes with you wherever God calls you. It doesn't end just because you leave the country, which means you also don't need to reapply upon returning. Medi-Share is also much more affordable than other health care options, with many of our members saving as much as 50% on their monthly health care expenses.
Trust is everything, especially when traveling abroad. We understand that you want to fully trust the medical professionals you choose to help you and your family with their medical needs. That's why we make Medi-Share flexible. You can use any doctor you want while you are serving — no need to worry about a network or approved providers.
Medi-Share is also a member-driven organization. Every year, our members vote on our program guidelines, which means your money only supports things that align with our shared Christian values.
Finally, you get the built-in support of a global Christian community! There is something reassuring knowing that you've got fellow believers all over the world praying for you, especially in the often uncertain moments of medical need.
How Medi-Share works for missionaries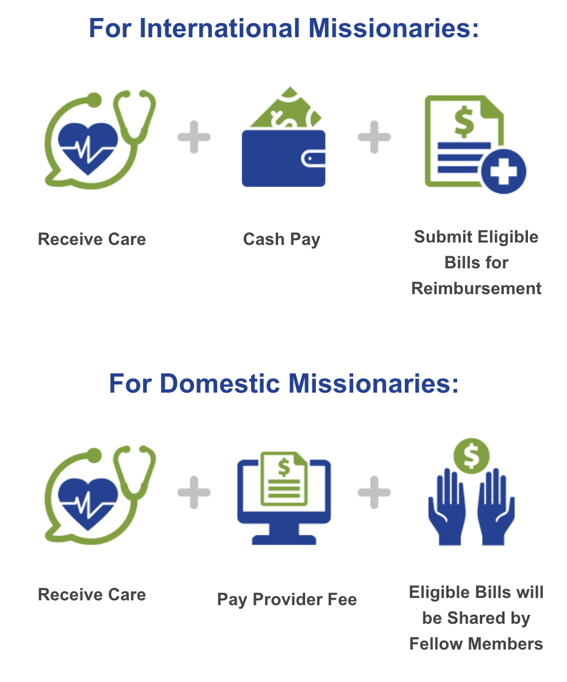 Want to learn more?
Head over to our Medi-Share Global page to get more information. If you'd like to talk to someone, We have a talented team available to help support you and answer any questions you may have.
Missionary Healthcare FAQs
Does health insurance work overseas?
No. In order for health insurance to work overseas, missionaries must purchase a special international policy.
Are international health insurance options more expensive?
Generally speaking, yes. In most cases, missionaries will find that the cost of health insurance abroad is more than what they would typically pay in the United States.
Does Medi-Share work overseas?
Yes! Medi-Share Global is designed to follow missionaries wherever God calls them.
Does Medi-Share cover missionaries serving domestically?
Yes. Medi-Share is also available to missionaries serving here in the United States.
Does Medi-Share have to follow Open Enrollment rules?
No! Because we are a ministry, you may join Medi-Share at any time.