Medi-Share, an outreach of Christian Care Ministry, is proud to present the 2017 Celebrate Christmas Tour with Natalie Grant and Danny Gokey.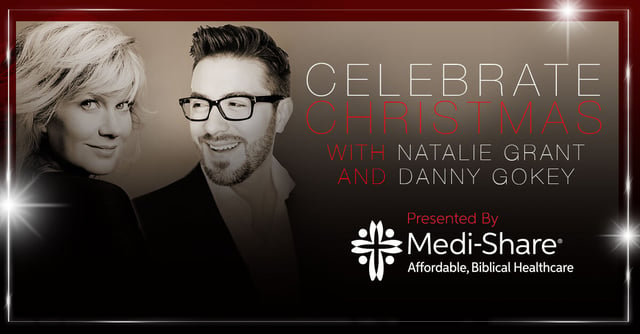 The tour, which kicks off November 30, marks the second year in a row the artists will be pairing up, this time with 12 dates on the bill. With multiple GRAMMY® awards and nominations, as well as multiple Dove Awards between the two, concertgoers are in for a vocal treat and an amazing night of worship.
Danny Gokey is best known for his third-place finish on Season 8 of American Idol, and now for his soulful Contemporary Christian hits such as Rise, Hope In Front of Me, and Tell Your Heart to Beat Again.
Christian and Gospel singer Natalie Grant came on the scene in 2005 with her album "Awaken." Her most recent work, "Be One" debuted at #1 on billboard charts, which includes Clean, King of the World, and title track Be One. Grant will be hitting the Christmas tour right after recovering from surgery in October to remove half of her thyroid. The singer is doing well and looking forward to returning to her passion of singing.
Danny, a proud Medi-Share member, looks forward to collaborating with Natalie a second time.
"I'm really looking forward to this tour," said Gokey. "It's actually my favorite of the year! (Can I say that? Ha-ha!) I love singing with Natalie and I think we've created such a fun, interactive night that really celebrates all aspects of the season. Christmastime captures the wonder of God's gift to us and also the kindness of the human spirit. I think that is all reflected in the music we're going to be doing each night!"
Late this summer, Danny was a guest on CCM's Friends Sharing Friends program where he shared his time and talents to lead employees and Facebook Live viewers in worship and shared a bit of his amazing testimony. It was at that time he announced he had recently become a Medi-Share member.
"I heard about it through a man who works at my management office. When he sat down and told me (about Medi-Share), it's like a lightbulb went off in my head. Immediately I started asking questions – about how to get involved, how to sign up, and how to move forward with this company because they carried all the values I believe in.
"The best part about signing up was that I immediately saw a reduction in my monthly payments. I was extremely happy to see such an improvement right away," Gokey added.
"One of my wife's first comments, because she deals with taking the kids to the doctors all the time, was 'Wow, they pray with you every time you call them!' I feel like this is a company that believes, and invests, and genuinely wants to help us – we're not a bottom line, we're not a number. We, in fact, are the mission of Medi-Share, which I think is incredible.
"It means a lot to me to be a part of this community. I've always wanted to help people in the medical realm, and this was the link I was missing."
Tickets for the Celebrate Christmas Tour are on sale now at www.CelebrateChristmasTour.com.