If you are an entrepreneur, you have the unique opportunity to take control of your destiny and achieve the level of success that you dream of. While thriving in the business world is no easy feat, there are a variety of specialized tools and resources to help you succeed.
Knowing which tools and resources are the best for saving you time or money without adding unnecessary complexity is essential for growing your business, launching successful projects, and staying organized.
In this article, we'll provide an overview of the best tools and resources available for freelancers, solopreneurs, and micro-businesses so you can manage your business more efficiently, make smarter decisions, and maximize your business's potential.
Valuable Resources to Jump-Start Your Success
Whether your business is at the sparkling idea stage or several years in, these free resources can help you start and grow your business. From video courses and webinars to workshops and mentorships, you can increase your skills and gain access to helpful guides and templates to fast-track your success.
1. Service Corps of Retired Executives (SCORE)
SCORE is a nonprofit organization dedicated to helping small business owners succeed. They provide free mentoring, workshops, and other resources for entrepreneurs and business owners. SCORE mentors are experienced executives who can provide guidance on topics such as starting a business, writing a business plan, financial management, marketing, and operations. Click on "Match Me by Zip Code" and fill out the form to find a mentor in your area or take advantage of online events and courses.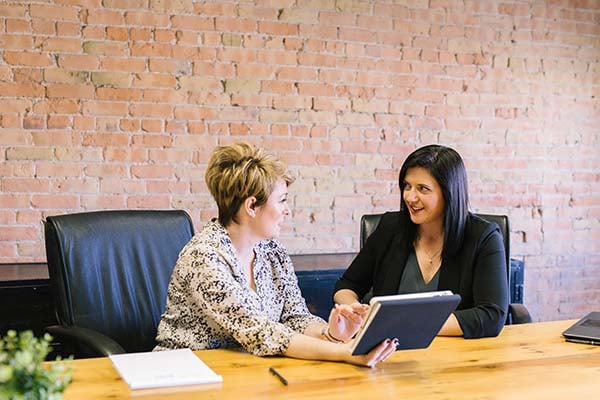 Photo by Amy Hirschi on Unsplash
2. U.S. Small Business Administration (SBA)
TheSBA provides a wealth of resources for small businesses, including access to funding, education and training, counseling, and more. They also offer specialized resources, such as their Office of Women's Business Ownership (OWBO), which specializes in helping female-owned businesses succeed. Find its 10 steps to start your business here.
3. U.S. Chamber of Commerce
U.S. and local chambers of commerce help businesses by providing resources, advice, and networking opportunities. They can be a valuable resource for entrepreneurs and small business owners, offering access to educational resources, marketing opportunities, government advocacy, and discounts on products and services.
4. Business Incubators
Business incubators are organizations that provide resources and guidance for entrepreneurs to foster the success of their startups. Often in conjunction with local colleges or universities, they offer mentorship, access to funding, workshops, seminars, networking events, office space, and other resources. Incubators can be a great asset to entrepreneurs who need extra support as they build their businesses.
5. LinkedIn
A powerful tool for business owners and entrepreneurs, LinkedIn is a great platform to make connections, build relationships with potential customers and partners, and find new opportunities. LinkedIn also offers helpful resources such as articles, webinars, courses, and more to help you stay current on industry trends and develop your skills. Additionally, LinkedIn has advanced search capabilities that allow you to pinpoint people in your industry and connect with them.
6. Google for Entrepreneurs
Google for Entrepreneurs offers a variety of resources and programs designed to help entrepreneurs succeed. From online courses to in-person events, Google provides the tools and resources needed to develop a successful business. Google also offers access to capital, mentorship, and other support through its various partnerships with organizations such as Techstars and the National Science Foundation. Additionally, they provide resources on topics ranging from marketing to customer service and product development.
7. The Rebel Business School
The Rebel Business School is an online business school designed to give entrepreneurs the resources they need to succeed. They offer courses, webinars, and mentorship programs to help you learn the skills necessary to launch your business and grow it into a successful enterprise. They also have a library of helpful guides and templates covering topics such as marketing, finance, legal considerations, operations, and more. Rebel "throws out" traditional business planning and helps you avoid taking on debt by helping you build a business for free.
Essential Business Tools to Increase Productivity and Your Profits
While Google and Microsoft offer a suite of popular tools, products, and services to help individuals and businesses alike communicate, stay organized, and collaborate, many other tools may help you get more done in less time.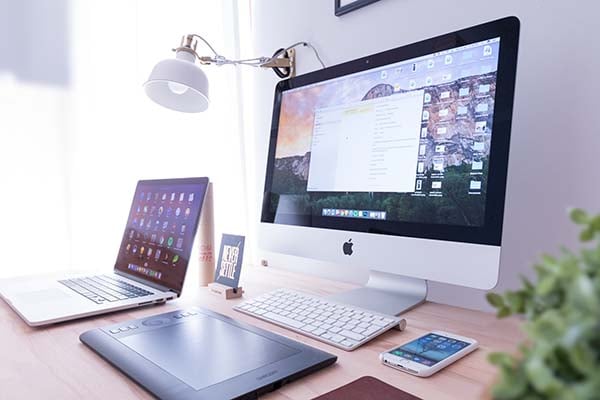 Photo by Domenico Loia on Unsplash
1. Productivity and Time-tracking Apps
Apps such as Forest and RescueTime can help increase productivity by identifying where you spend your time online and blocking distracting websites stealing your precious minutes (or hours!).
Time-tracking apps are a must-have for freelancers and businesses who charge per project or hourly. Use them to easily monitor and document the amount of time you're spending on each project so you stay on budget, increase your efficiency, invoice clients accurately, and save money in the long run.
My Hours, Toggl Track, Tracking Time, and Harvest are all great time trackers with a range of features to meet the needs of different users.
Toggl Track is a user-friendly app that tracks time, projects, and budgets with easy reporting for accurate client invoicing. We use it for its simplicity and price - $0 for up to 5 users.
Similarly, My Hours can help you manage tasks, track hours and expenses, and create client reports.
Tracking Time provides project management, hours tracking, reporting, billing, work scheduling, timesheet approval, and more, making it great for those with employees or teams.
Harvest is top-notch for easily tracking your time, issuing client invoices, and accepting payments.
All the mentioned apps offer free versions, allowing users to try out the features before committing or upgrading to a paid subscription.
2. Project Management and Collaboration Tools
As an entrepreneur, you're probably juggling multiple projects and tasks simultaneously. Instead of trying to manage them all on your own, why not boost your project management with the right software?
Project management tools are a must-have for freelancers and small businesses, allowing you to easily coordinate with clients, manage tasks, track deadlines, and collaborate with your team.
Asana and Trello are two of the most popular project management apps on the market. They are great for creating tasks and checklists, assigning them to employees or contractors, monitoring due dates, and tracking overall project progress.
Several of our virtual assistant clients use Asana to manage their projects, create to-do lists, and assign us various tasks.
We use Trello in our own business to collaborate and manage workflow as we like its Kanban board visualization features.
There are dozens of other project and task management tools out there, so make sure to compare a few and choose the one that best fits your needs. Other options you might consider include Basecamp, ClickUp, and Smartsheet.
Each tool offers unique features and capabilities, allowing teams to coordinate tasks and resources, collaborate on projects, and improve communication. Alone or in combination, these tools can help organizations streamline processes, increase productivity, and ultimately drive better business results.
3. Bookkeeping and Accounting Software
Invoicing and accounting software is critical for tracking revenue and expenses, managing payables and receivables, monitoring budgets and cash flow, and staying tax compliant. Most accounting software also includes its own time-tracking options or easily integrates with other tracking apps for easy client invoicing!
Popular accounting software includes Wave, Zoho Books, Xero, FreshBooks, and QuickBooks. Several allow you to try the software for free and pay monthly or annually for subscriptions.
We utilize FreshBooks as its features and pricing best meet our needs. We have found it user-friendly and secure, with new features continuously added.
Newer freelancers and solopreneurs might opt to start with Wave or Zoho's free accounting software, while others may look tofeature-rich QuickBooks to meet more of their business needs.
Bonsai is worth checking out if you're looking for an all-in-one tool with client, project, and financial management features.
4. Graphic Design Software
Entrepreneurs who are not graphic design professionals can utilize various tools to create eye-catching content to promote their businesses. With the right software, you can produce professional-looking images, logos, banners, infographics, and more to create a cohesive brand story. Popular options include Canva, Easil, Stencil, and Visme. Whichever software you choose, it's essential to understand the features and capabilities of each one to ensure you select the right tool for the job.
Easil is a great tool for creating stunning visuals with an easy-to-use drag-and-drop editor.
You might also consider Stencil if you're primarily creating social media graphics, ads, or images.
We've been a fan of Canva for years utilizing its tools to create logos, infographics, social media and blog post images, presentations, eBooks, and more.
A solid alternative to Canva is Visme which offers more features and a higher price.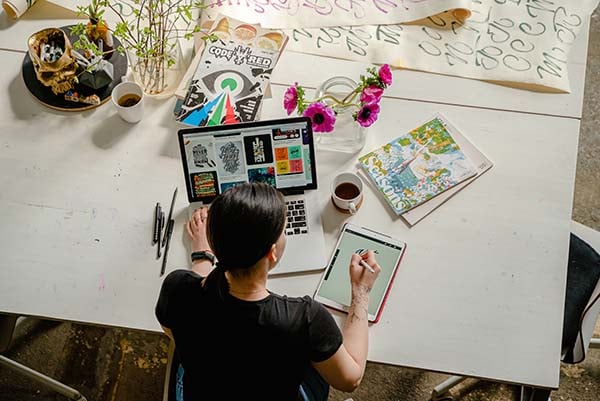 Photo by Antoni Shkraba
5. Document-sharing Services
Document-sharing services provide a secure way to share your work with clients and colleagues. You might start your freelance business with Google Drive, but as you grow or add to your team, you may find the need for an alternative storage solution.
Businesses like Box, Dropbox, Sync, and Tresorit can fill that need by allowing you to store, share, and collaborate on documents safely. Easily upload documents to the cloud, send them to clients or team members, and access them from multiple devices, including mobile apps, making it easier than ever to collaborate wherever you are.
You've likely heard of Dropbox if not used it since it was introduced in 2008. With plans from basic to advanced, you can align the features you want with the price you can afford.
Like Dropbox, Box offers cloud storage with collaboration features; it also includes an enterprise-grade security system, making it an excellent option for businesses.
Tresorit is another popular cloud storage and collaboration tool, offering secure end-to-end encryption for maximum data protection.
Finally, Sync offers a cloud storage solution with unlimited file versioning and real-time backup to protect your documents.
6. Online Portfolio Sites
An online portfolio is essential to showcase your work and reach potential clients. You can design and publish your own website, of course. But online portfolio platforms can give you a jump start on displaying your work without all the aggravation of establishing and maintaining your own site.
The most popular portfolio platforms include Behance, Dribbble, Contently, and Authory.
Behance and Dribbble are geared toward creative professionals such as designers, illustrators, photographers, developers, and other digital artists. Whereas Clippings.me and Authory are geared toward writers and online content creators.
With any of these platforms, you can create a portfolio and connect with potential clients looking for your style of work or collaborate with others. Several of these portfolio platforms also offer education, advice, job boards, community forums, and marketing support for users.
7. Legal Services
As an entrepreneur, you may need many types of professional services. One example is a legal professional who can help you form your business, protect your intellectual property, and review contracts to help protect other assets.
An experienced business attorney will be your best bet for legal affairs; however, online legal providers have become increasingly popular in the modern age, offering access to legal advice and document services for individuals, businesses, and organizations. Two reputable online legal companies are LegalZoom and Rocket Lawyer.
LegalZoom provides access to a wide range of legal documents and services, such as business formation, agreements and contracts, and trademark registration.
Like LegalZoom, Rocket Lawyer provides legal advice and document review services to businesses, including formations and employment, freelancing, and consulting contracts.
While you may find others out there, be sure to check their reviews and Better Business Bureau rating and accreditation before using.
Equip Yourself for Success
As a freelancer, solopreneur, or micro-business owner, many tools and resources are available to help you thrive as your own boss, spending your time and earning revenue on your own terms.
From project management and invoicing to communication and social media marketing, the best tools will keep you organized and connected so you can focus on delivering exceptional services to your clients.
With the right tools and resources, you can work smarter, not harder, increasing your efficiency, profitability, and overall success.