Childhood obesity has become an epidemic in the United States. Lifestyles in America and abroad have changed so drastically over the last few generations that even young children's health have been affected.
Diseases typically only seen in adults, such as type 2 diabetes, high blood pressure, and sleep apnea, are now seen in kids. Harvard Medical School found more information on this subject.
Obesity occurs in all age groups, but when it affects kids that we are responsible for, we need to evaluate the influences in their lives.
Are we as parents/caretakers setting healthy examples?
Are guidelines set on hours of technology use?
Are we so rushed in our busy lives that we just throw the quickest thing on the table?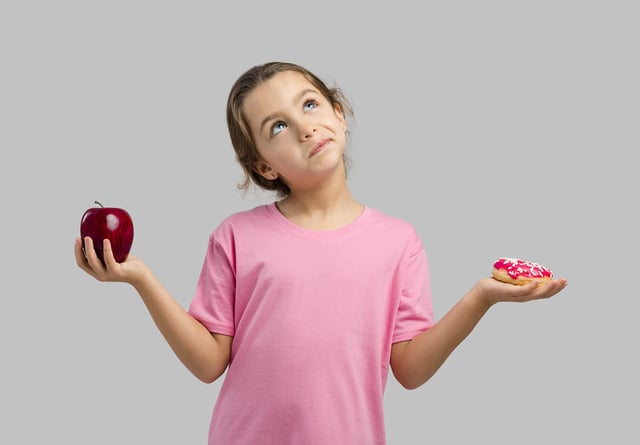 Life can be overwhelming. Sometimes it's all we can do to just put food in our kids' mouths. Letting them have an extra hour of screen time can be so tempting when we need time to decompress.
With September being Childhood Obesity Awareness Month, it's a great opportunity to consider the impact the choices we make have on our children. Taking a moment to absorb some of this information may be just what we need to motivate us to make our family's health a higher priority.
Parents: this is a great read on childhood obesity. Just keep an open mind when reading who this doctor blames most for this epidemic.
Work, school, and extra-curricular activities can make us very busy throughout the week, but when health is a priority, it needs to be incorporated within the busiest of weeks. This may require some organization and time blocking, but the results will be well worth it.
Prepare Healthy Food in Advance - This does require a designated preparation time, perhaps on the weekend, but will make your week more productive. Taking a few hours to chop fresh vegetables or prepare healthy Crock-pot, pressure cooker, and frozen meals can make all the difference in the nutrition of your family mid-week. Doing the prep-work ahead of time allows us to heat and serve healthy meals quickly in the midst of busy schedules. Check out these healthy lunch ideas.
Stay active - Healthy kids stay active. It doesn't have to be structured, but some parents favor the benefit of being held accountable to a set schedule. However, family walks after dinner and kid fit videos in the living room work as well. As parents, we have control of how far away we park the car and if we take the stairs instead of the elevator. This takes commitment on our parts, but we were also given the privilege of raising healthy kids in God's image.
Limit Screen Time - There are several concerns with too much screen time. First, it fosters inactivity. Turn off the tablet and go for a bike ride or to a playground instead. Secondly, advertising for junk food is rampant, particularly on kids' T.V. shows and even within video games. Finally, being allowed to watch electronics late at night or in bedrooms leads to decreased sleep, which can also play a factor in obesity.
Most doctors and dietitians don't recommend putting your child on a "diet." Using the word diet and overly restricting food or calorie intake can lead to a lifelong cycle of unhealthy dieting. Instead, switch to healthy whole foods rather than processed foods, prepare as many meals as you can at home with whole ingredients, and use portion containers for snacks.
The following resources can help as you guide your kids to greater health. Do your part to lay a healthy foundation in your children so they can reap the benefits for a lifetime.
Obesity prevention:
https://mychristiancare.org/wellness/childrens-health/obesity-prevention-in-children-and-teens/
Eat Healthy, Move More chart:
https://www.nhlbi.nih.gov/health/educational/wecan/downloads/tip-eat-healthy-chart.pdf
Get Preschool and Kindergarten kids in the kitchen early to create a lifestyle of cooking: https://www.nhlbi.nih.gov/health/educational/wecan/downloads/cookwithchildren.pdf
Obesity in teens:
https://mychristiancare.org/wellness/childrens-health/obesity-in-teens/
Becoming aware of how much we can play a role in our children's health should not feel burdensome, but empowering. Much of childhood obesity can be controlled with lifestyle changes, and we as parents do have some control over our kids' choices. For our own and our children's health it is important to lead by example and direct our children into healthy, faithful lives.
"Train up a child in the way he should go, even when he is old he will not depart from it." - Proverbs 22:6