How To Get Medical Bills Reimbursed Through Medi-Share
One of the perks of Medi-Share is that our members are not expected to pre-pay for medical services and then submit for reimbursement. In fact, per the member voted guidelines (VI.A & VI.J), medical bill submissions are required to be submitted on a standard Healthcare Industry form (CMS 1500, UB, or IB). This is simplest when members have providers submit bills directly to Medi-Share. Member reimbursements without these forms are not eligible for sharing except in certain scenarios.
On the back of your Medi-Share card is an "EDI" number. This number is used by the provider in their billing system for electronic submission directly to Medi-Share. A vital part of the automatic processing of the electronic bill is automatic discounting by our PPO network. This ensures that the membership share dollars are protected and that providers are compensated fairly for their services.
Some might object that the self-pay rate for a service is typically cheaper than the discounting provided by PHCS. While this is true in some cases, Medi-Share's PPO pricing presents the greatest savings most of the time. Of all the Member Reimbursements processed in 2018, our PHCS pricing provided the greatest discount 61% of the time.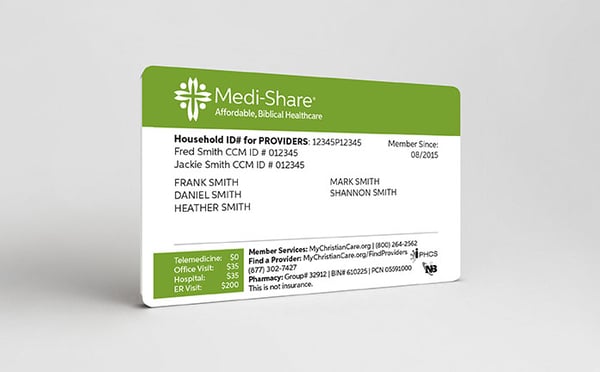 In instances where members have researched the medical service and are confident they can secure a better self-pay rate, they are free to pursue it. However, members still must submit self-paid medical bills to Medi-Share on a standard Healthcare Industry form. It is important that members discuss the provider's willingness to provide these forms as often part of the self-pay discount is the elimination of this administrative overhead.
Further, if a member is in their first 36 months of membership they need to consider whether this bill could be related to a pre-existing condition and, therefore, ineligible for sharing. This is extremely important for high dollar bills.
Pro: Providers can easily submit your medical bills directly to Medi-Share for discounting and sharing.
Caution: If a member chooses self-pay that results in a higher cost than could be obtained through the PHCS network, the member must pursue a refund for the difference from their provider.
Sixty percent of all electronically submitted bills are processed within four days of submission. Those that do not automatically process and require review by a processor, care manager, programs specialist, or negotiator are processed around 30 days on average. Member reimbursements, due to multiple factors like complexity and additional research, typically take between 60 to 150 days to process.
Pro: Electronic bills are much faster to process.
Caution: If self-pay option is chosen, it can take up to 150 days for you to receive a reimbursement if all the required information is received the first time.
When a provider submits a bill electronically, not only is it more convenient, but the information needed to process a bill is normally present on the submission the first time. In order to properly discount and process a bill according to our guidelines, the following must be present on the submission:
Doctor's Name
Facility Name and Address
Provider Tax ID number
Diagnosis Codes (ICD10)
Procedure Codes (CPT)
Breakdown of Charges by Service
Receipt for proof of payment
Include discounts given by the provider
In 2018, 25% of processed member reimbursements were missing a critical piece of information which can delay the process even further. When this happens, you will receive an EOS (Explanation of Sharing) with the information received and an EOS message that tells you what pieces of information are missing. This list is also provided on page 2 of the reimbursement form which can be found in the member center and should be included for all reimbursement submissions.
When is self-pay preferred?
Prescriptions: Per section VI. A. of the Guidelines, eligible prescriptions can be shared for up to six months per eligible condition. Pharmacies can bill directly but typically do not. Because of this, prescriptions are an approved reason for submitting a Member Reimbursement Form. Please note that the requirements for prescription reimbursements are slightly different than a normal reimbursement. This separate list is also included on the second page of the standard reimbursement form. Also note that the time to process prescriptions is much shorter on average than other reimbursements, typically processing in 45 days on average.
Provider Refuses to Submit to Medi-Share: There are many bill sharing ministries active today which have very different models than Medi-Share. This has led to confusion and some bad provider experiences with bill sharing ministries in general. In response to this trend, Medi-Share has developed a Provider Community Services team who meet, negotiate, and build relationships with providers who have expressed concern or hesitancy in working with us. If this happens, please give us a call and our phone team will set up a "Pre-Service Dispute." Our provider team will then reach out to the provider with the goal of education and resolution if needed. While our PCS team works with the provider, you may want to take advantage of other PHCS providers in your area. You may self-pay in this situation, but please be aware of the risks outlined above.
If you have any further questions about the reimbursement process, log in to your Member Center to chat with a Member Representative.