No one ever thinks it'll happen to them…
That accident you didn't see coming. A sudden illness or diagnosis that keeps you down longer than anticipated.
While most people think of life insurance as part of their "adult-ing" responsibilities, those who consider long-term disability coverage over the course of their lifetime is far fewer. However, working adults are three times more likely to become disabled than they are to die before age 65, according to the Social Security Administration.
It's time to protect your most valuable asset – your ability to work and make a living.
Let's face it, thinking about the possibility of becoming disabled for a period of time is not exciting. That's why Medi-Share wants to give you all the facts about our Manna Disability Sharing Program, and make the consideration process as painless as possible for you… without the gimmicky duck.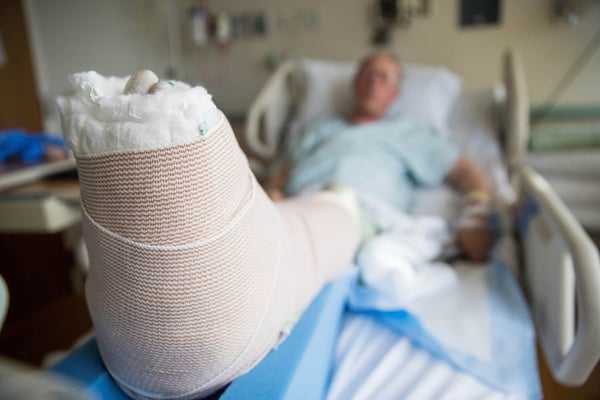 While most employer-based or individual plans will replace up to 60 or even 70% of your monthly income during a qualifying event, Medi-Share's Manna members take care of up to 80% of a member's total taxable earned income for up to 12 months, and for a lot less than you would think.
Each member contributes a monthly administrative fee, which is used by CCM to administer the program, and a Variable Share Amount (VSA) per unit elected, which is used to assist other members (see chart below).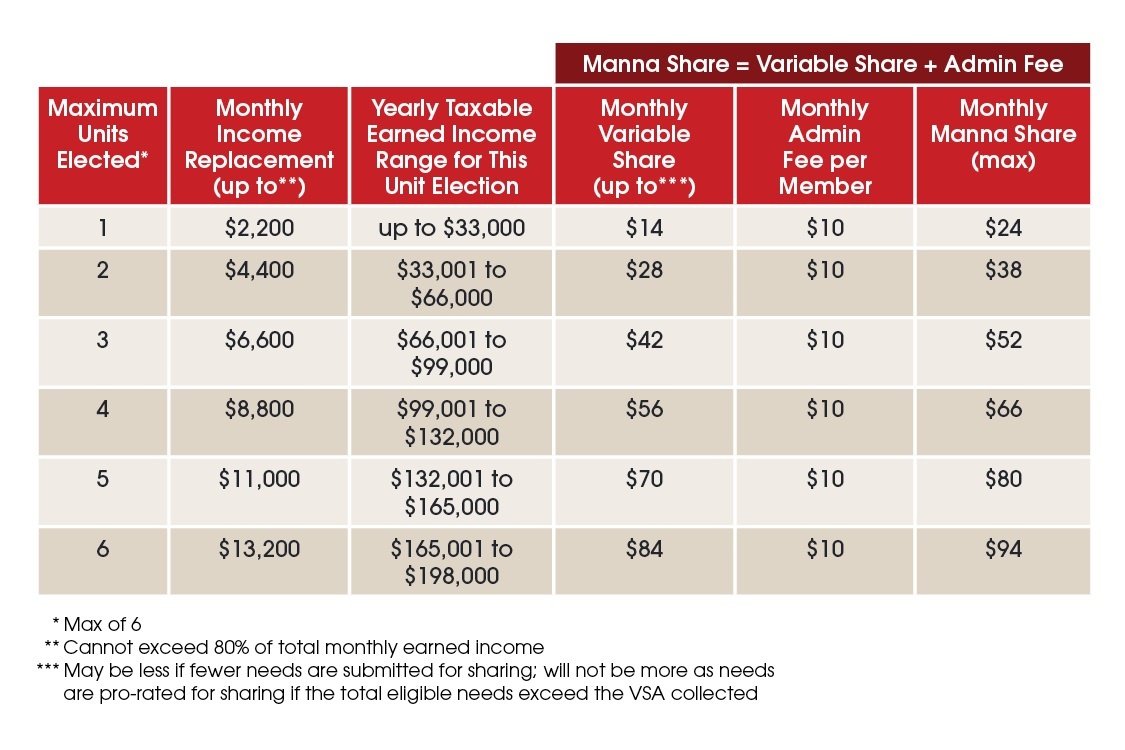 An important thing to remember, as with Medi-Share, is that Manna is not insurance, nor is it guaranteed in any way. All money comes from the voluntary giving of Manna members, not from CCM itself.
Read more about Manna Standards and Purpose.
Still on the fence? Read what some of our Manna members have to say about the program and how other members came through in their time of need:
"I received Manna for two months during my recovery from my accident. I am so glad I had purchased it. I was unable to work for four months and it replaced some of the lost income. I highly recommend it for anyone who doesn't have short term disability coverage provided by an employer." Marc D.
"In August 2016, I was diagnosed with stage 4 cancer. I was informed by my surgeon that I would be facing a 6-month recovery. I notified the finance department at CCM of my situation, and from the very beginning she and everyone at CCM was there to help me. This included help and support with any Manna question, plus spiritual blessing through all their prayers for me. Each time I contacted CCM during my long and painful recovery, everyone was by my side no matter what the problem. Another blessing were the numerous cards and letters from other Manna members offering their prayers for my complete recovery. This was, in my opinion, a major factor in my complete recovery, as God listened to all our prayers and answered them! I am now completely cancer free and so blessed!" Paul S.
"Manna has been such a blessing to my husband and me. I'm a dental hygienist and had to leave work suddenly due to extreme pain in my body. Fortunately, my chiropractor recommended treatment that is helping me get better. Thank you Manna members!" Ann H.
Ready to join?
Still have questions?