[As seen in Charisma Magazine] My husband and I got married right out of high school when we were both 18. We had been married about a year when some friends of ours, close to the same age and who had been married six months, started the process to be foster parents for three kids in their church who needed a home.
When it didn't work for them to foster those three, they accepted placement of three other siblings. They were giving up their "honeymoon years" to foster children who were pretty hard to handle.
We thought they were crazy.
Somewhere along the way, the Lord began to change my heart from thinking they were crazy to being burdened by the need right outside our front door. Every time I threw away food or walked past our guest bed room, I thought about a child we could help. I began to feel this call to do more and God began giving me a hunger and love for children with broken stories.
Unfortunately, my husband and I weren't on the same page, at least "not right now," he would say. I was torn.
Here I was, knowing God was calling us to foster, wanting to be obedient, but also knowing I needed to honor my husband and be in agreement with him for such a life-changing decision.
So, for a solid year, I prayed God would either change his heart or mine. I prayed God would either show my husband this is what we were supposed to do or change my desire and make it clear to me this was not His plan.
What was so difficult at the time – the waiting – ended up being the best part of our story. After a year of prayer, we both knew God was calling us to foster. I was so excited! I thought, "God is calling us to foster. We are going to be able to help families unite back together and be able to be a support system after they return home."
Adoption wasn't even on our radar at the time.
It's funny when we know God is calling us to do something, sometimes we fill in the unknowns with what we think the plan will be. Looking back now, I know God was preparing us for adoption the whole time.
We began our fostering classes and heard stories about foster placements who returned home and about those who continue in care until adoption. One story that was shared stuck in my mind and weighed heavy on my heart. The night before our final home inspection, I jokingly told my husband, "We should tell Nikki that we don't want to foster and we will adopt the seven-year-old she talked about in class."
My husband replied with, "Makayla, just let the Lord do what He is going to do." The next day, after Nikki went through our home and asked us when we wanted to take our first placement, she asked us if we would be willing to take a child already up for adoption. We told her yes, but only as a foster home, that we would not promise adoption.
We joke now that she knew what she was doing and had talked with the Lord because the child we agreed to take was the very same seven-year-old whose story we knew and had already started to love. That same child, our first foster placement, was adopted less than six months later.
At 20 years old, we became parents to a seven-year-old boy through the gift of adoption.
In the five years we were foster parents, we were able to adopt two sons and care for more than 20 children. I could write a book on the faithfulness of God and His perfect timing throughout our whole foster and adoption journey. The Lord has taught our family many things through the gift of adoption.
I had someone tell me not too long ago how great we were because we took a child with baggage. All I can think is how grateful I am the Lord does not look at us and see our baggage or the broken state of who we were.
God, in His grace and mercy, adopts us as His own children. Every day I am thankful God showed us the gift of adoption through His love for us, but also the love He has given us through our children.
Adoption is not how I thought God would choose to grow our family, especially at first. Now we are parents to four boys, two through adoption and two biological. That once seven-year-old boy is now 15 and has such a kind heart. Our second son, who was adopted at three is now nine. He is low functioning, special needs and teaches us new things daily about the Lord's kindness. We also have welcomed two boys biologically who are 4 and 2.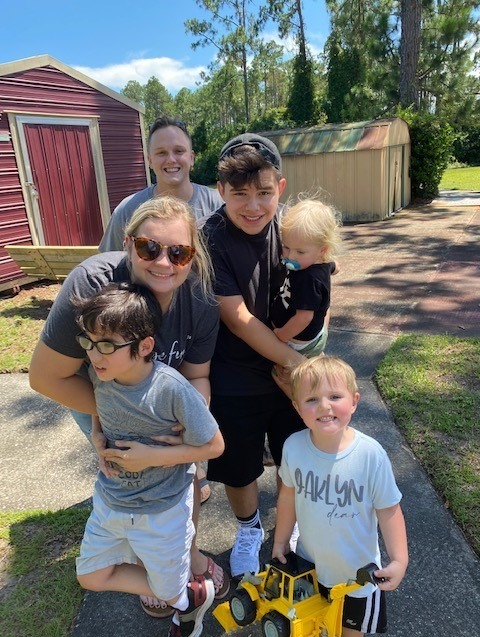 As National Adoption Month comes to a close, may we all look in our hearts and listen to the call of God for those opportunities to show the love of Christ to children in need.
Ephesians 1:5-6
"He predestined us for adoption to himself as sons through Jesus Christ, according to the purpose of His will, to the praise of His glorious grace, with which he has blessed us in the Beloved.