Three more things added to the to-do list. Another Christmas party to add to the calendar. Presents to buy, cookies to bake, pictures to take, cards to send. The list goes on and on as we succumb to the hustle and bustle of the season, often without taking a moment to pause and breathe.
We're all guilty of it, right? And who could blame us? The excitement of the Christmas season builds in the eyes of children as they see the decorations go up, hear the songs on the radio, and watch the array of holiday cartoons on TV, and their enthusiasm tends to catch like wildfire.
But the point of this holiday season is not to rush through it and just get from one event to the next with your sanity (and Christmas spirit) intact.
If "Jesus is the reason for the season" as pastors exclaim from the pulpit, and many folks will promote on their social media channels, then how can we put Him at the center of our celebrations and our lives during this time so those words don't seem so shallow?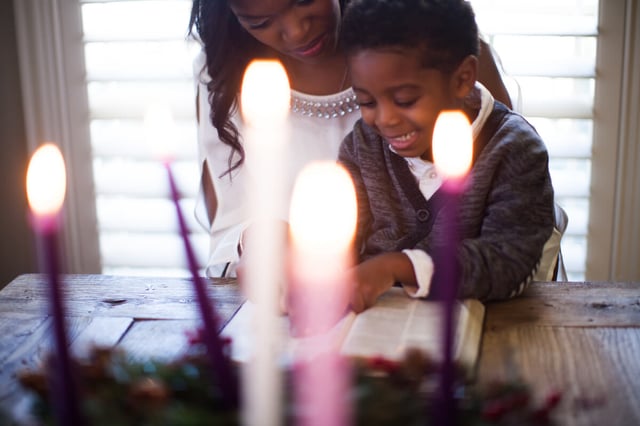 What is Advent?
Despite centuries of observance, many modern-day Christians are still unfamiliar with its practice or purpose in the traditional Christian calendar (also called the liturgical calendar or Church calendar). Some will argue that Advent is not explicitly mentioned in the Bible; therefore, it should not be observed (though, technically, neither is Christmas or Easter).
Whatever your stance on Advent, or any other Church Year observance, the best approach is one of grace. It is the Lord, through the Holy Spirit, who convicts each believer and guides us in how we practice our faith (Romans 14).
All of that being said, let's explore what Advent is and its purpose for Christians past, present, and future.
Advent begins four Sundays before Christmas and lasts through Christmas Eve, so the actual length varies from year to year. This year, it begins on Sunday, November 27 since Christmas itself falls on a Sunday. It's a time in which Christians prepare for celebrating the birth of Jesus by remembering the longing of the Jews for a Messiah.
Many churches will participate corporately, either by displaying an Advent wreath with purple, pink, and white candles, singing related hymns and songs, diving into Advent-themed sermons or congregational devotions, or a combination.
The word "Advent" stems from the Latin word adventus, which literally means "coming" or "arrival," in this case, the arrival of our Savior, Jesus Christ. The theme of longing or waiting for the Lord is important for Christians as a point of emphasis. We read it throughout scripture, but especially among the later-day Old Testament prophets:
"But those who wait on the Lord shall renew their strength; They shall mount up with wings like eagles, they shall run and not be weary, they shall walk and not faint." Isaiah 40:31
"And it will be said in that day: 'Behold, this is our God; We have waited for Him, and He will save us. This is the Lord; We have waited for Him; We will be glad and rejoice in His salvation." Isaiah 25:9
"Rejoice greatly, O people of Zion! Shout in triumph, O people of Jerusalem! Look, your king is coming to you. He is righteous and victorious, yet he is humble, riding on a donkey – even on a donkey's colt." Zechariah 9:9
"But you, O Bethlehem Ephrathah, are only a small village in Judah. Yet a ruler of Israel will come from you, one whose origins are from the distant past." Micah 5:2
How can I participate in the Advent season?
The Israelites observed a number of feasts and festivals that served to help them remember through all generations what God had done for them. Even Jesus himself participated in Passover or the Feast of Unleavened Bread (Matthew 26:17-20). So it seems reasonable, then, that the post-New Testament Advent celebration is also beneficial to observe as a way for believers to remember and anticipate our coming King.
Participation in Advent can enrich the corporate worship of a church as well as one's private devotions. And yes, though neither the word or practice itself is mentioned in scripture, anything that draws us closer to Christ, both individually and collectively, is worthy of our attention and further study.
Is it good to focus more on God and grow in our relationship with him? Is it good for us to meditate on our undeniable need for a Savior? Is it valuable to prepare to celebrate the true meaning of the season? Wouldn't it be nice to experience more of God's peace and presence during the often hectic weeks prior to Christmas?
If your answer to any of these questions is yes, perhaps God is using this to introduce you to a new way to observe this time of year. The Advent season invites us all to go deeper in our longing, appreciation, and study of Christ our King.
So, whether your family displays a wreath and candles somewhere in the house, follows along with an Advent-specific devotional, or participates with your church in corporate observance, a good place to start is to pray. See how the Lord would direct you and your family to celebrate this season. If you do, start small. Just doing one thing can greatly enhance your faith. You can always build on that in the years to come.
Some songs of Advent:
O Come, O Come Emmanuel, sung by Jeremy Camp
Breath of Heaven, sung by Amy Grant
Come, Thou Long Expected Jesus, sung by Reawaken